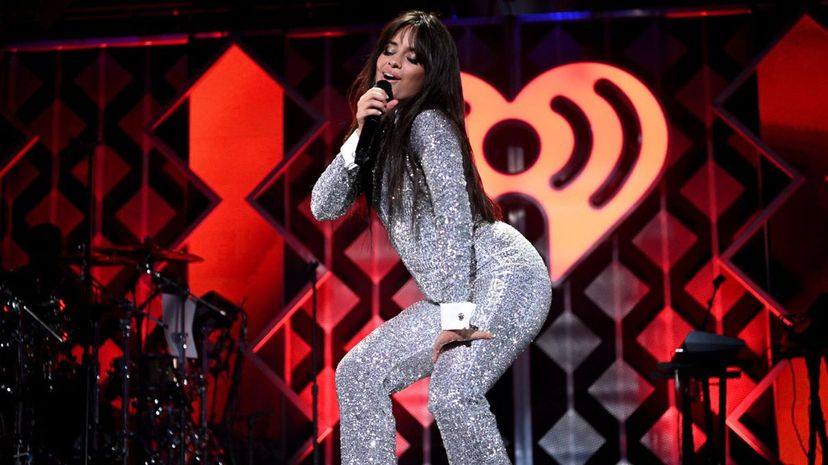 Image: Todd Owyoung for iHeartRadio
About This Quiz
It's beginning to look a lot like iHeartRadio Jingle Ball tour season! The annual holiday bash hits the road and airs on The CW this December. From New York City to Los Angeles, it's a 12-city tour that hits major markets across the country. But before you rock around the Christmas tree, quiz yourself on all things Taylor Swift, Lizzo, Camila Cabello and the rest of the star-studded lineup. Get all the deets as you sleigh this quiz.
Taylor Swift will perform at the iHeartRadio Jingle Ball on her birthday. 🎂 How old is she turning?
Perhaps she still feels 22, but Taylor Swift turns 30 this year. 🎉 Celebrate with her at the New York City tour stop on 12/13. Can't make it? It streams live on The CW App and airs on The CW on 12/19.
His appearance at the iHeartRadio Music Festival was a total surprise, but Lil Nas X is part of the official iHeartRadio Jingle Ball lineup. 🤠 Who hasn't he made an "Old Town Road" remix with yet?
Giddy up! Lil Nas X brings the yeehaw agenda to the iHeartRadio Jingle Ball tour on 12/8 (San Francisco). Bust out your lasso and 10-gallon hat, the sheriff of cowboy rap is coming to town. All we want for Christmas is a new "Old Town Road" remix.
♫ I just took a DNA test, turns out I'm 100% that Grinch. ♫ Lizzo is getting into the iHeartRadio holiday spirit. What instrument is she known for playing?
That's right, Lizzo is 100% flutist. She's classically trained and has been playing for 20 years. Catch her on 12/1 (Tampa), 12/3 (Dallas/Ft. Worth), 12/6 (Los Angeles), 12/11 (Pennsylvania), 12/13 (New York City) and 12/15 (Boston). Maybe she'll bust out her signature "ho and flute" dance move.
The caption of this post says it all: iHeartRadio Jingle Ball 2073. 😂 Can you name the group?
It's a holiday miracle: You don't have to wait for 2073. See the Jonas Brothers before they go gray on 12/13 (New York City), 12/18 (Chicago), 12/20 (Atlanta) and 12/22 (Miami).
What bad blood? After a long public feud, Taylor Swift and this fellow iHeartRadio Jingle Ball star made up this year. Do you recognize her in that costume?
Katy Perry even made a cameo in Taylor Swift's "You Need to Calm Down" video. Dressed as a burger and fries, the duo makes a happy meal. 🍟Perry performs on 12/6 (Los Angeles) and 12/9 (Minneapolis/St. Paul).
Half of Camila Cabello's heart is in which city? 💔
Fingers crossed the former Fifth Harmony member performs her ultra-catchy "Havana" on the tour. 💃🏻You're practically singing it right now, aren't you? See her perform on 12/3 (Dallas/Ft. Worth), 12/6 (Los Angeles), 12/9 (Minneapolis/St. Paul) and 12/13 (New York City).
The lineup even includes an Oscar winner. Sam Smith won an Academy Award for which of these songs?
"Dancing With a Stranger"
At the 88th Academy Awards, Sam Smith won Best Original Song for "Writing's on the Wall," which was recorded for "Spectre." It's the second James Bond theme to win an Oscar. Adele's "Skyfall" was the first. Smith performs on 12/1 (Tampa), 12/3 (Dallas/Ft. Worth) and 12/6 (Los Angeles).
Which sitcom does Billie Eilish love so much that she even sampled it in "My Strange Addiction?"
The song samples audio from the Scarn dance that's featured in the episode "Threat Level Midnight." Eilish says the beat for "My Strange Addiction" reminded her of the iconic TV moment, and that "it's about strange addictions, and The Office is mine, so …" See her perform on 12/6 (Los Angeles).
This group's "Love Yourself: Tear" became the first K-Pop album to hit the number one spot on the Billboard 200 chart. Can you name them?
BTS has one of K-Pop's largest fan bases. Known as the A.R.M.Y., they've helped the band climb the charts and rack up impressive numbers of YouTube views. Their "Blood Sweat & Tears" video broke the record for fastest K-Pop video to be viewed over 6.3 million times in a single day. They perform on 12/6 (Los Angeles).
Credited as her given name of Ashley Frangipane, Halsey made a cameo appearance in which Oscar-nominated movie?
Presenting Lady Gaga's Ally with a Grammy award in the movie, Halsey called the experience "an all-time life highlight." You can catch Halsey at the iHeartRadio Jingle Ball on 12/6 (Los Angeles), 12/11 (Philadelphia), 12/13 (New York City), 12/15 (Boston) and 12/16 (Washington, D.C.).