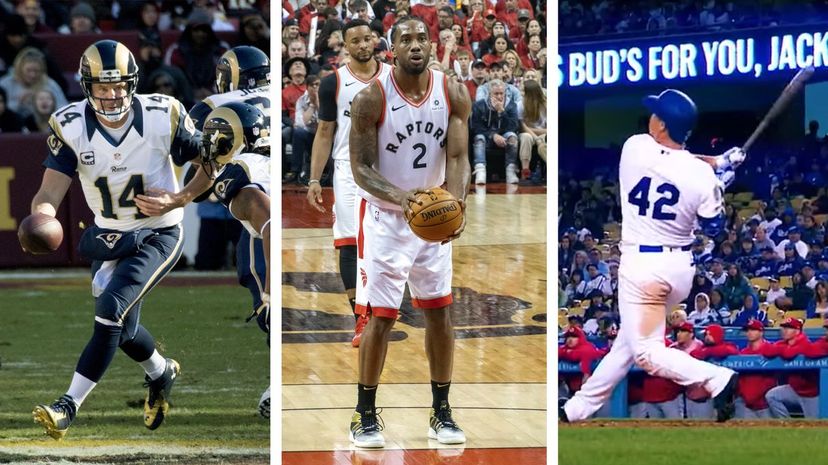 Image: Keith Allison / Chensiyuan via WikiCommons / MLB via YouTube
About This Quiz
$8.1 billion. Another $8 billion. $10.3 billion. Curious what those numbers represent? (No, it's not what you'll win if you ace this quiz.) This combined $26 billion and some change is what the NFL, NBA and MLB pulled in during their 2018 seasons. Mind? Blown.
Except, not really. Americas have a crazy obsession with sports, from Little League moms who shout at volunteer umpires to grown adults who spend hundreds and thousands of dollars on sports memorabilia, jerseys and tickets. We also spend an inordinate amount of time watching sports. According to figures from Nielsen, a company that tracks that kind of thing, we logged more than one trillion minutes sitting in front of a television for on- and off-the-field moments.
The "Big Three" of pro sports — the National Football League, the National Basketball Association and Major League Baseball — make up a majority share of what we spend our money and time on. Add in collegiate athletics and even games from the National Hockey League, and what we've got is a clear cry for help. (As in, hey, go outside, or maybe read a book?)
Just how closely do you follow the member organizations in the Big Three, though? Do you know which Giants team belongs in which league? Where are the Lions, the Tigers and the Bears? (Hint: Two of the three are in the same town.) Put on your thinking, er, ball cap, and tackle this quiz that asks: Is this team from the NFL, NBA or MLB?