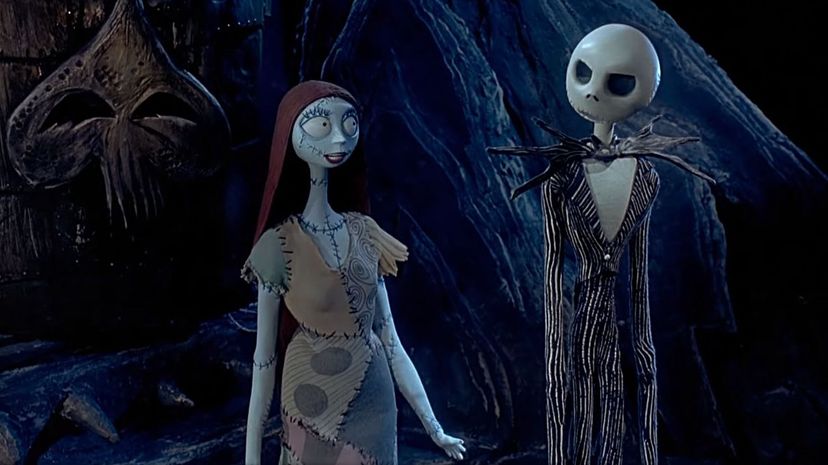 Image: Touchstone Pictures, Skellington Productions and Walt Disney Pictures
About This Quiz
In contrast to the cheery backgrounds that were typical of animation at the time, Tim Burton took us down a beautiful dark and winding road filled with glorious monsters and holiday cheer in "The Nightmare Before Christmas." Even though this setting is a stark contrast to what viewers were used to at the time, it helps make the story feel more organic. 
On top of this, there were so many nuances that this film picked up that other production companies hadn't explored. Sally's background was more relatable; she didn't live in a castle with a doting parent but instead lived with a bully of a dad in the form of Dr. Finkelstein. Couple that with her secret (or not so secret) pining over Jack as well as the fact that she's always falling apart (perhaps something that shows her frailty of character) makes her more relatable than the other ladies who dominated the animated screen. 
And Jack's portrayal is equally as complex; instead of craving that special someone, he craves a more fulfilling life. This, in turn, taught kids a lesson; even though other people's lives may be picture-perfect, they may not be as happy as they project. On top of all of this, add the body-positive message (Sally's not that perfect princess and Jack being a living skeleton is quite a juxtaposition to the typical prince) gave hope that love could be had by anyone, regardless of how they look.
After watching "The Nightmare Before Christmas," you probably felt that it spoke to your heart, and you identified with either Jack or Sally. The question is, which one? Let's put your lifestyle under the microscope and see if we can find out.