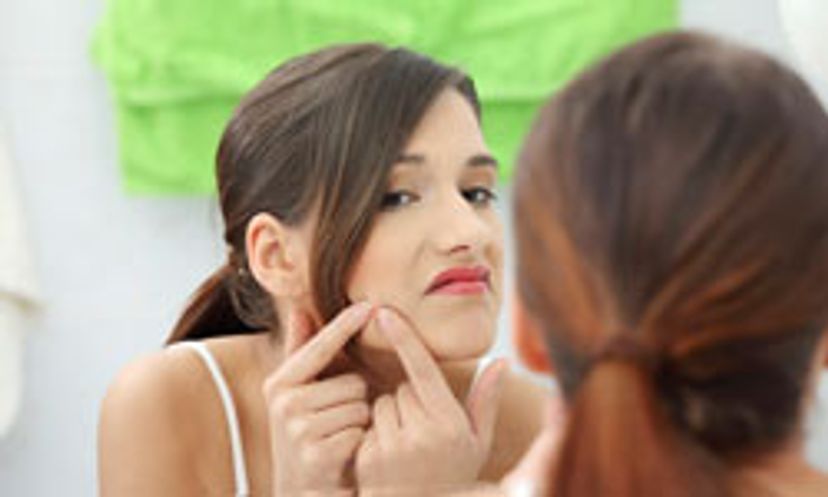 Image: ©iStockphoto/Thinkstock
About This Quiz
Pimples, zits, blackheads, whiteheads -- regardless of what you call your blemishes, they certainly can be difficult to ignore when you look in the mirror. But do other people see your blemishes before your beauty? Take our quiz to find out.
What type of doctor specializes in skin problems?
We started you off with an easy one! Dermatologists specialize in treating skin conditions.
Which of the following is most commonly used for treating mild acne?
over-the-counter topical treatments
Topical acne treatments that contain benzoyl peroxide or salicylic acid are often strong enough to prevent and control mild acne, preventing the need for prescription treatments.
interlesional corticosteroid injections
True or false: People don't need to be very close to you to see your breakouts -- no one could miss them.
False. People you interact with would need to be very close to you to be able to scrutinize your skin the same way you do.
Which treatment is used against moderate to severe acne?
interlesional corticosteroid injections
All of these options are treatments shown to be successful against cases of moderate to severe acne. Oral contraceptives are also used to treat acne in female patients.
What mental and emotional symptoms are common for patients with acne?
People with frequent breakouts may have low self-esteem, coupled with feelings of embarrassment, discomfort and humiliation.
True or false: The psychological effects of breakouts are just as serious and important, if not more so, than the physical effects.
True. For many people, the feelings caused by skin breakouts are more serious than the acne itself.
What psychological condition are people with blemishes at risk for?
People with blemishes often experience low self-esteem and negative feelings, leading to depression, anxiety and social withdrawal in some.
Although rare, which mental disorder may develop in people suffering from a distorted body image due to breakouts?
In rare, severe cases, the psychological effects of breakouts may lead patients to develop body dysmorphic disorder.
narcissistic personality disorder
paranoid personality disorder
What is the defining characteristic of people with body dysmorphic disorder?
an obsession with themselves and an inflated sense of self-importance
moods that swing between mania and depression
an obsession over a perceived defect in themselves, and an obsession to fix those flaws
People suffering from body dysmorphic disorder preoccupy themselves with their own perceived defects and obsess about fixing those flaws.
excessive food restriction
Which is a sign you may need help treating your blemishes?
Your work (or school) is negatively impacted.
Your relationships are negatively affected.
You withdraw from your social activities.
When your blemished skin affects your relationships, work and social life, it may be time to see your family physician or dermatologist.
©iStockphoto/Thinkstock