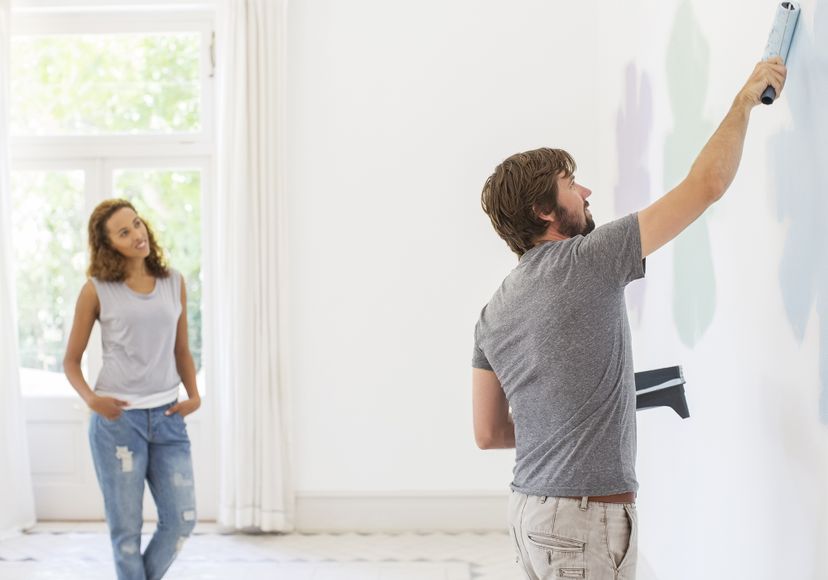 Image: Caiaimage/Martin Barraud/OJO+/Getty Images
About This Quiz
When spring rolls around, it's natural to want to put the cold days of winter behind us. But changing the entire look of your house each season can be expensive. Take this quiz about brightening your house for spring without breaking your bank account.
What colors are considered quiet and calming, and thus work well for winter, not spring?
When it comes to home decoration, the moods of different seasons call for different colors. Spring works with vibrant reds and oranges, and bright pastels.
What should you mix with water to create an effective and non-toxic window cleaner?
In addition to this do-it-yourself cleaning solution, you can also use newspapers in place of rags to clean without leaving streaks on the glass.
What should you do with unused canned food in the spring?
Even for people who are conscientious about keeping their homes clean, the build-up of old items can contribute to a lack of order.
make a big stew out of all of it
What is a good use for the old ashes from your fireplace?
mixing them into your garden soil
Wood ash contains mainly chemical compounds that make good nutrients for your plants.
using them for kitty litter
combining the with vinegar to make a dishwashing liquid
In addition to cleaning the ashes out of your fireplace, how can you give it a spring-like feel?
by placing scented candles on the hearth
Remind yourself you won't be needing to light a fire for a long time by putting colorful candles in front of your fireplace.
by lining the inside with flowers
by planting herbs inside it
How can you "springify" the furniture in your house?
by changing slip covers and throw pillows
Furniture is too expensive to replace each season, but that doesn't mean you can't spruce it up with some nice accessories.
by swapping the rooms in which they are placed
by cleaning them thoroughly and making sure they are all in good shape
What types of floor coverings work well for spring?
Sisal is a slightly rough but still soft fiber that can be made into a light mat -- the perfect feel for the season of renewal and rebirth.
When should you plant a cutting garden so you can have inexpensive flowers in the spring?
Flowers are a great way to brighten your springtime house. By planting them at the right time, they will be ready for the spring season.
What can you do to make sure you have flowers for a long period of time in the spring?
plant a variety of different types
Different types of flowers bloom at different times, so by diversifying your garden you will have flowers available throughout the season.
make sure they are well fertilized
planting them in separate, small greenhouses
What is considered the cheapest way to alter the look of a room's design?
While it is unlikely that you would want to repaint the walls of a room in your house every season, timing a repaint for spring may be well worth the effort.
What is it called when you have a single wall that is a different color than the rest in a room?
By changing the paint color on the wall that you first see when entering a room, you can maximize impact for just a small price.
What is an inexpensive way to upgrade patio furniture that you've grown tired of?
getting new cushion covers made
New fabric can add a bright seasonal look to your patio furniture, and getting new covers made for your cushions is much less expensive than replacing the whole set.
trading it in for new furniture
painting or re-staining it
What can you do with your entryway to make an immediate spring-like impression?
Put your coats and boots away until you need them again.
An empty coat rack looks much more like spring than one that is full of heavy coats. Put them away for a few seasons until you really get cold.
Keep the light on whenever you are home.
Place wind chimes by the door.
What type of window treatment is ideal for allowing more spring sunshine to light your bathroom?
Bamboo is another material that can be used for blinds that will allow sunshine in, block the view from outside and provide a springlike look to the bathroom itself.
What should you replace heavy wintry curtains with for springtime?
Sheer material in front of your windows allows light to penetrate and feels extra spring-like when the soft breeze blows past it through an open window.
Caiaimage/Martin Barraud/OJO+/Getty Images