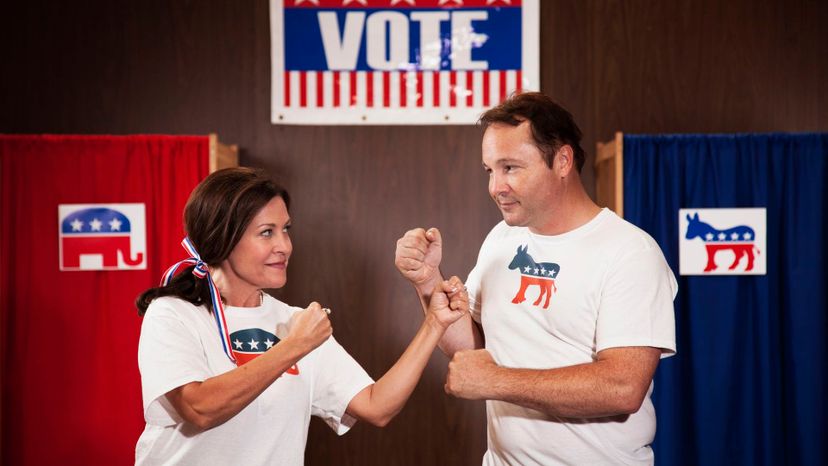 Image: Hill Street Studios/Blend Images/Getty Images
About This Quiz
These days, hyper-partisanship has threatened the ability of the American government to function, as  increasingly narrow groups of voters select increasingly extreme candidates - who, thanks to gerrymandering, voter suppression, apathy and media Balkanization, are increasingly hard to dislodge once they become incumbents. One surprising fact is how much distance there is between the parties, considering that the USA is the only major developed economy that has never had a strong, mainstream, leftist party; by global standards, today's fairly corporate-oriented Democrats sit squarely in the center of the political spectrum, while most metrics position their opponents far to the right of this. While there are glimmers of socialism, they remain just that for now. Meanwhile, labels like liberal and conservative get slapped on a grab-bag of policies that aren't necessarily either.
It was not always like this. Back in the time of Dwight Eisenhower and before him, Franklin Delano Roosevelt, the two parties were more similar, suffering from similar diseases (albeit to differing degrees) - racism, misogyny and so on - while sharing much of the same vision - democracy, rule of law, freedom of speech and so on. New Deal Democrats and Eisenhower Republicans are where each party's true soul historically belonged, and as polls show on issue after issue after issue, that's where most Americans still are. Hyper-partisanship is fun for TV and for politicians, but it's not an accurate reflection of the people.
This quiz is thus not about measuring how much you like yelling at and demonizing some ghoulish cartoon of "them". It's about measuring where you are in relation to the reasonable heart of each party. Hopefully, remembering that such a place exists will help us to push back against the noise, and remember the values most of us hold dear.