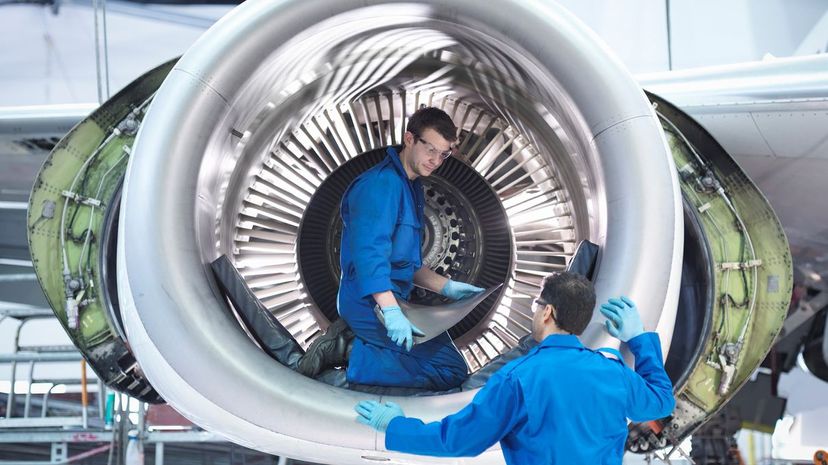 Image: Monty Rakusen/Cultura/Getty Images
About This Quiz
Behind every good pilot is a good mechanic. They are often the unsung heroes of air travel. Pilots get all the perks and the attention, but those planes wouldn't get off the ground if it weren't for diligent maintenance. Keeping aircraft safely in the air requires regularly scheduled maintenance, repairs and regular inspections. There are several types of aircraft and avionics equipment mechanics and technicians.
Airframe and Powerplant (A&P) Mechanics repair and maintain most parts of an aircraft, including the engines, landing gear, brakes, and air-conditioning system. Mechanics measure wear and tear and identify defects using X-rays or magnetic and ultrasonic inspection equipment. This allows them to discover cracks that cannot be seen by the naked eye.
Avionics technicians repair and maintain a plane's electronic instruments. These include radio communication devices and equipment, radar systems and navigation aids. As pilots rely more and more heavily on electronics and technology, avionics technicians become more and more important in safe flight. 
Inspection Authorized (IA) mechanics hold an A&P license while also performing inspections on aircraft. They are the powerhouses of the maintenance department, performing the widest range of maintenance and repairs. 
No matter the certificate, every passenger relies heavily on a good aircraft mechanic or technician. These are some of the smartest people at the airport. They know the answers to all of these questions. How many can you answer correctly?
Monty Rakusen/Cultura/Getty Images