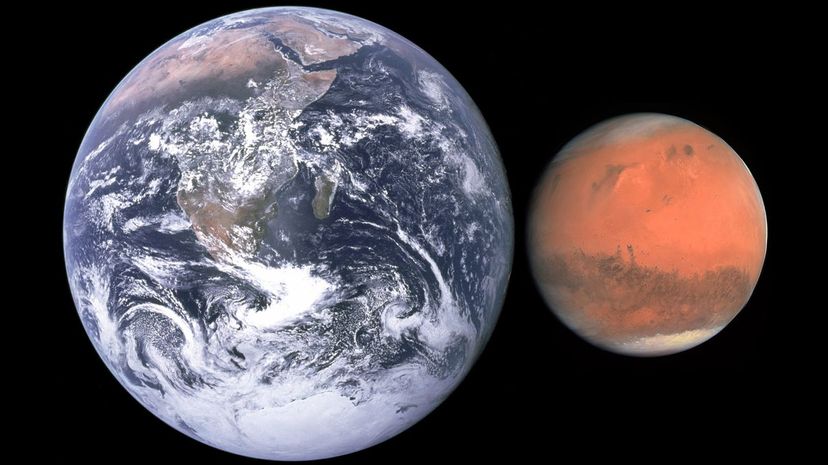 Image: Wiki Commons by NASA / Apollo 17 crew / ESA / MPS / UPD / LAM / IAA /RSSD / INTA / UPM / DASP / IDA
About This Quiz
The planet Mars and the planet Earth were born from much of the same cosmic fires, but each took its own path. The Earth is a blue planet with oceans, flora, fauna and a relatively thick atmosphere. Mars, on the other hand, is a barren wasteland with no bodies of liquid water, and almost no atmosphere. Mars is smaller than the Earth, with weaker gravity, and even the geologic forces that shape worlds are different between the two planets.
Humans have had thousands of years to explore the Earth, discovering and naming landmarks and places. Astronomers have only had the tools to even glimpse the red planet in any detail for a couple of centuries. As our tools improved, humans have gotten better and better views of Mars, improving our understanding of its surface, its history, and of course its landmarks. Mars is strewn with vast craters, towering volcanoes and canyons that could swallow nations from Earth. It has vast deserts, glaciers made of solid carbon dioxide and rock formations suggesting it was once a world eroded by liquid water. Mars also has some features that Earth does not have, including rock formations shaped by Mars's unique geology and weather.
Could you separate the Martian landscape from the Earthly one? Now is the time to find out!
Wiki Commons by NASA / Apollo 17 crew / ESA / MPS / UPD / LAM / IAA /RSSD / INTA / UPM / DASP / IDA