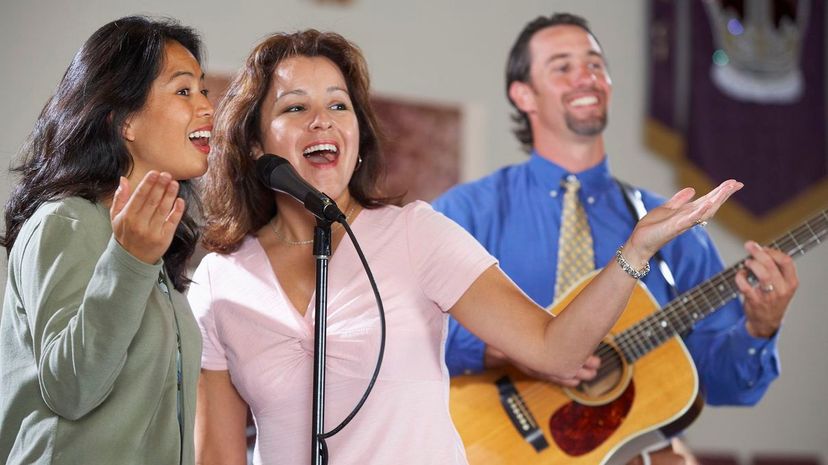 Image: Brand X Pictures / Stockbyte / Getty Images Plus / Getty Images
About This Quiz
The Christian hymn book gets shines throughout this worship song quiz. Get your vocal chords ready for a tuneful mission that tests your knowledge of famous devotional songs. (Singing the lyrics is optional, but we'd like your best guesses either way.)
Christian worship songs inspire encouragement that emboldens the spirit. The lyrics are easy to memorize and sing, even when our knowledge of official biblical scripture is wanting. And should we misremember them, we can still hum out the catchy tunes.
Many of today's songs sung in churches across the globe were authored in the 18th and 19th centuries, times when Christian revivalism was at an all-time high. Even the more modern worship tunes borrow lyrics, styles and melodies from the songs of the revival epoch. Simple lyrics penned during America's expansion period enticed new non-English-speaking European settlers and English-challenged American natives to embrace the Christian faith. It's not too far-fetched to imagine early Christian American pioneers whistling tunes like "O God, Our Help in Ages Past" and "Guide Me, O Thou Great Jehovah" as they pushed wagons westward. In a sense, we still do these things today, which is a reason why worship songs are so timeless and necessary!
Build pleasant harmonies; guess these sweet-sounding song titles with your friends! 
Brand X Pictures / Stockbyte / Getty Images Plus / Getty Images