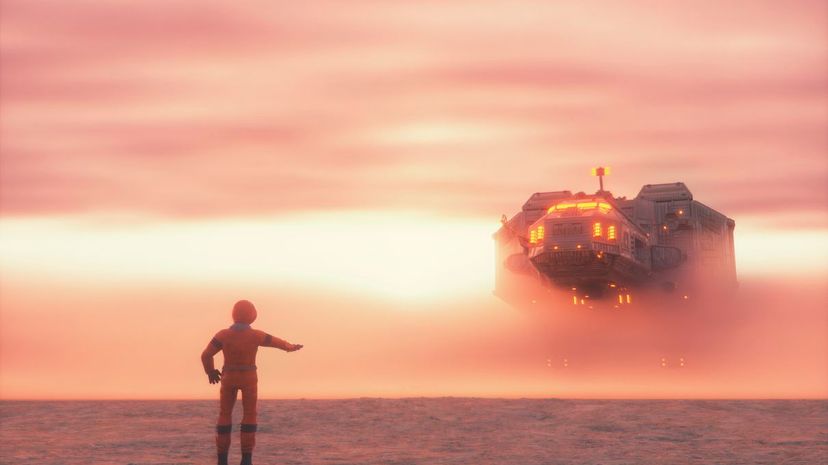 Image: gremlin / E+ / Getty Images
About This Quiz
What do you think of when you hear the term science fiction? If you're like most people, you think of space travel, extraterrestrial life, scientific experiments, zombies, time travel and futuristic worlds. Science fiction can contain all of these things, but it fundamentally deals with humanity's reaction to advances in science and technology and the ethical implications involved. For instance, even if scientists could genetically recreate dinosaurs, does that mean they should? 
While some ancient myths incorporated elements of sci-fi, science fiction developed as a distinct genre in the 1800s. Many critics believe Mary Shelley's "Frankenstein," published in 1818, to be the first sci-fi novel. It explores the ethics of scientific experimentation and questions what responsibilities a creator has toward its creation. Other notable science-fiction writers emerged during this century, including H.G. Wells,  Jules Verne and Edgar Rice Burroughs. 
Science fiction remains a popular genre today, as evidenced by the host of sci-fi books, movies and TV shows available. Just look at how many stories have come out in the last few decades that focus on the survivors of some apocalyptic event. People have always had anxieties about the future, and science fiction provides an outlet for that uneasiness. 
So now it's time to put on your robotic thinking cap and identify these popular science-fiction novels from past and present! Ace it and earn bragging rights with all your sci-fi buddies!
gremlin / E+ / Getty Images