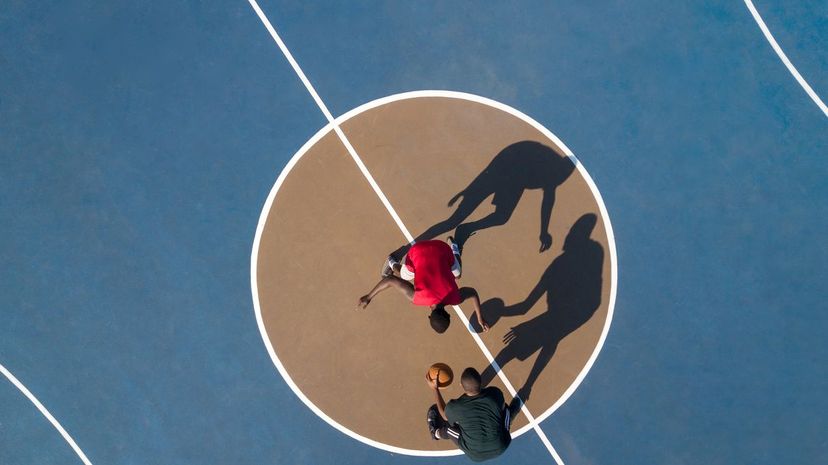 Image: Hello Africa/DigtialVision/GettyImages
About This Quiz
The NBA center is vanishing right before our eyes. There was a time when the center was the biggest, baddest, best and most dominant player on the court. It was commonplace for Wilt Chamberlain to average 50 points a game for an entire season. He once grabbed 55 rebounds in a game and scored 100 points in a game, and averaged more than 22 rebounds per game for his entire career. 
Kareem Abdul-Jabbar was so powerful that the NCAA outlawed dunking. Kareem invented the skyhook shot in response, and it's been called the most unstoppable move in basketball history. Shaq was so supreme he inspired a new NBA tactic called "Hack-a-Shaq." The concept was simple: If Shaq caught the ball underneath the basket, the other team would hack him. If he didn't get hacked, it was a guaranteed two points. 
Bill Russell has 11 rings and just 10 fingers to put them on. Nobody has more championships than him.
But all that dominance happened so long ago. Wilt and Kareem would be the slowest players on the court today. Shaq only made one three-pointer in his entire career, and today's game is dominated by three-pointers. Bill Russell dominated, but he was only 6'8''. That's the size of a point guard today. Today's centers don't look anything like yesterday's, but they're still centers. Can you name the franchise if we list three of its greatest centers?

Hello Africa/DigtialVision/GettyImages