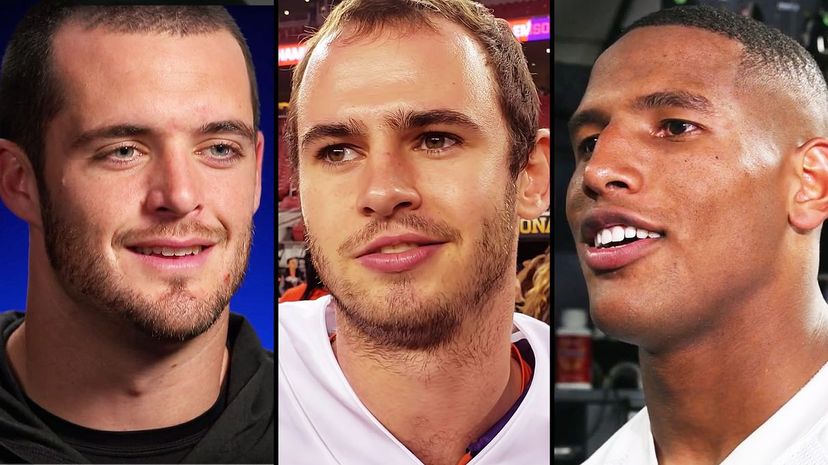 Image: YouTube by NBC Sports / ClemsonTigerNet / Silver & Black Report
About This Quiz
Where would the NFL be without these names – Joe Montana, Jim Brown, Walter Payton and Jerry Rice – and dozens of others, over the past 100 seasons? Some of us are almost as big a fan of those names on the backs of jerseys as we are the team itself. How can you not cheer on an Eric Berry, who battled cancer only to return to the field the following season? What about the story of Shaquem Griffin, who terrorizes backfields with only one hand, lost following a birth defect? Perhaps you've heard the story of Demario Davis, who turned a potential fine of $7,000 for a "Man of God" headband into a fundraising opportunity for a Mississippi hospital. These are the players behind the Kansas City Chiefs, the Seattle Seahawks and the New Orleans Saints ... and there are dozens of others out there.
The league is full of not only extraordinary individuals but also extraordinary talent. Whether you know anything about them off the field or not, you likely recognize their efforts on any given Sunday. And it got us thinking: How well do you know the key names that represent their franchises? Sure, some of them are simple: Is there anyone on earth who doesn't know which team Tom Brady plays for? But, can you place HaHa Clinton-Dix? What about JuJu Smith-Schuster? Don't forget Taco Charlton!
We'll give you three names to help you identify the team in question. Quarterbacks, wide receivers, linebackers and more. Some bigger names, some lesser-known. Use your sports smarts to pair these trios with the franchises they take the field for. Ready ... break!