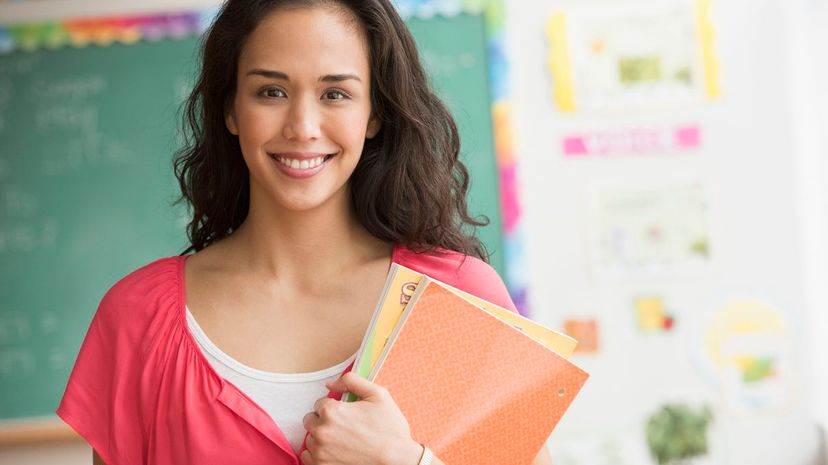 Image: Jose Luis Pelaez Inc / DigitalVision / Getty Images
About This Quiz
When you think of verb tenses, the first thing that comes to mind might be those foreign language classes you took in school. The teaching of second languages usually involves a more theoretical approach than all that pointing and parroting, constant immersion and downright necessity that constitute a baby's first language-learning experience. Plus, with the knowledge that everyone already has a language under their belt, a teacher of a second language has the tools to explain the underpinnings in a way that can't really be done through pantomiming. 
(So, while a native English speaker might be a dab hand at conjugating Spanish verbs, they could find themselves hard-pressed to identify what's happening in their native tongue.)
First of all, "tense" is often confused with "mood." "Tense" refers to time. The three basic tenses are past, present and future. (Well ... *some* grammar nerds say that the future isn't actually a tense in English due to the way it's constructed ... but ignore that for now.)
Tenses are subdivided into "aspects." These convey how the speaker of the sentence perceives an event temporally, in relation to themselves and to other actions they're speaking about. The main aspects are "simple" (if a tense has a simple aspect, it's often just referred to as plain "past," "present" or "future"), progressive (which is alternatively called "continuous"; think "-ing" words), perfect (using the auxiliary — "helping" — verb have/had) and perfect progressive (just ... all of the things.)
Is your head spinning yet? This is all rather difficult to explain without context, but taking the quiz should clear things up in no time! Let the learning begin!