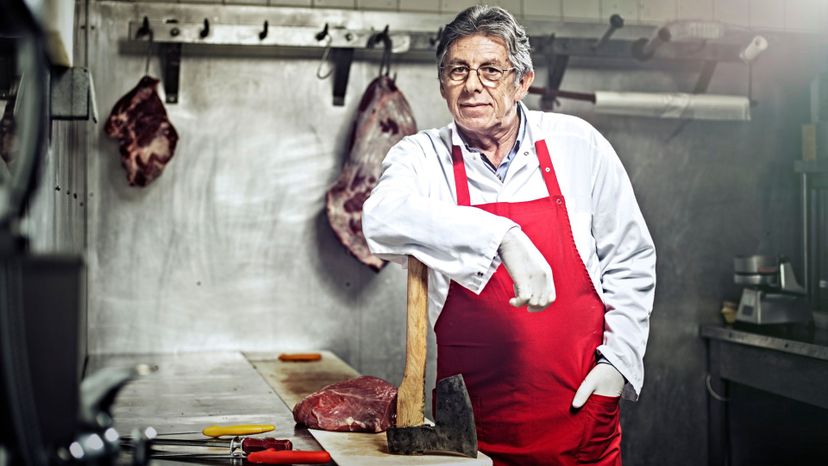 Image: poba/E+/GettyImages
About This Quiz
"Butcher": The very word has an unsavory connotation. In fact, it's had one for a while -- in his youth, the Roman leader Pompey was called "adulescens carnifex," or "butcher boy," for his bloody dealings with enemies. 
But do butchers deserve this kind of shade? Let's examine the evidence. While vegetarian diets make increasing sense as the world's population approaches 10 billion people (that's a lot of mouths to feed!) the developed world struggles with a near-epidemic of diabetes and pre-diabetes. For patients with these conditions, meat is an important -- and enjoyable -- part of what would otherwise be a restrictive diet low on sweets and other carb-heavy comfort foods. Beyond that, let's face it: the role of meat in celebratory dinners and family gatherings isn't going away anytime soon. 
In light of that, a traditional butcher's shop -- as opposed to a supermarket -- can be a good way to find high-quality meats, sometimes even ones that are from humanely raised animals. An independent butcher is very likely to take great care about the safe refrigeration and handling of meats in his or her shop. And, of course, a well-trained butcher is an excellent source of advice on roasting, grilling, braising and other cooking methods. 
Do you know what the guy (or gal) in the white apron knows about meat? For example, could you tell a friend what the best cut of beef is for making fajitas? Or how "baby-back ribs" got their name? Test your steak savvy, or your chop chops, now!