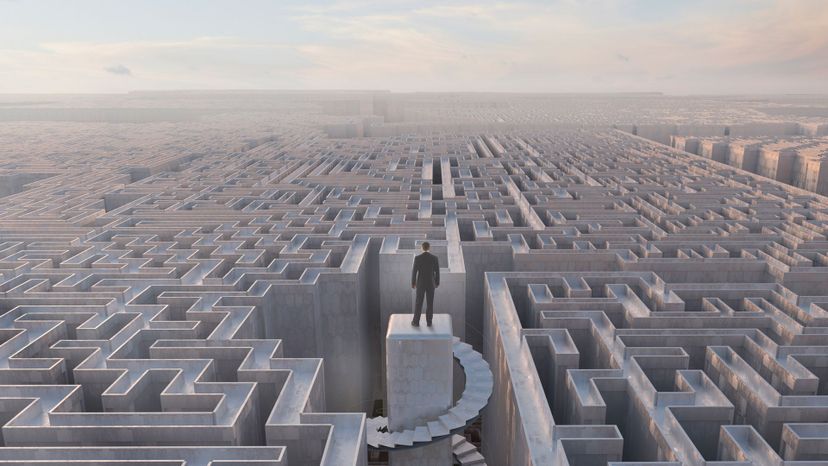 Image: Colin Anderson Productions Pty Ltd / DigitalVision / Getty Images
About This Quiz
When you hear the word "logic," you may think of a number of things. It's the name of a musical artist. It's a certain way of understanding or thinking about something. In the dictionary, the first definition refers to a science which deals with the principles of reasoning. And that's what this quiz is about.
You'll come across logic in mathematics and in philosophy, and it goes all the way back to Aristotle, branching into a number of fields including informal logic, formal logic, symbolic logic and mathematical logic. 
But logic puzzles use a part of mathematics involving deduction, and author Charles Lutwidge Dodgson, better known under his pen name and author of Alice in Wonderland, Lewis Carroll, created logic puzzles in his book, The Game of Logic. 
Mathematician Raymond Smullyan created some famous logic problems in his books To Mock a Mockingbird and The Lady or the Tiger. He had a series of puzzles dealing with "knights and knaves", where knights always tell the truth and knaves always lie. You'll see variations of these logic problems in this quiz.
Premises like one party always does this, or another party sometimes does that – that's at the heart of figuring out many logic problems. By deducting what can't be the possible answer, you're able to get closer to the right answer. 
So are you ready to put on your thinking cap and ace these logic problems? Show off your smarty pants and take this quiz! Good luck and have fun! 
Colin Anderson Productions Pty Ltd / DigitalVision / Getty Images