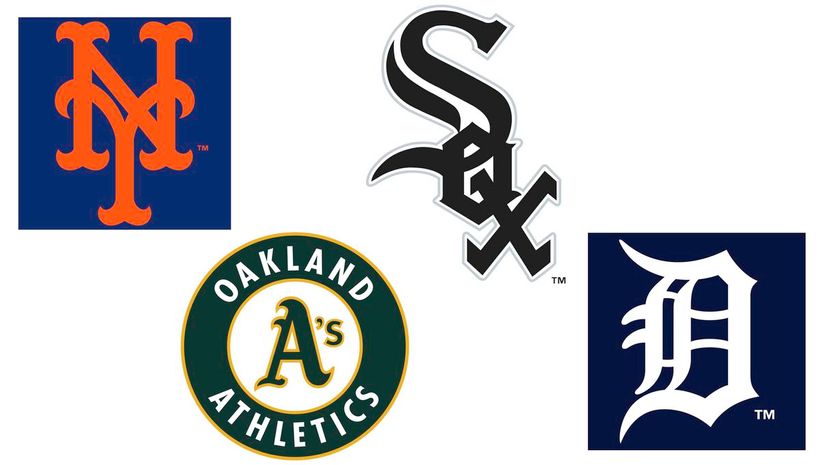 Image: The New York Mets / Chicago White Sox / Oakland Athletics / Detroit Tigers / MLB
About This Quiz
We could cue up the lyrics to Lee Greenwood's "God Bless the U.S.A." when it comes to Major League Baseball, and the descriptions would match the teams perfectly: "From the lakes of Minnesota (Twins), to the hills of Tennessee/Across the plains of Texas (Rangers), from sea to shining sea/From Detroit (Tigers) down to Houston (Astros) and New York (Yankees) to L.A. (Dodgers) ..." It's like Greenwood was thinking of America's favorite pastime when he wrote that song!
And it is at least America's "national pastime," according to one newspaper that said so back in the 1850s. (Of course, the first collegiate football game wouldn't be played for almost another two decades, but we digress.) The years that followed were legendary: Babe Ruth, Ty Cobb, Jackie Robinson. The Bronx Bombers. The Gashouse Gang. The Big Red Machine. There's no questioning the rich history of baseball ... and baseball in America. 
Today, there are 30 MLB teams from coast to coast, giving you the opportunity to don the colors, grab your ball cap and mitt and home "Take Me Out to the Ball Game," alongside 30,000 of your closest friends. Despite declining numbers at ballparks across the country, nearly 70 million people took in a game during this past season. 
Were you one of the 70 million? Let's test your baseball IQ with this mixed-up mash-up of scrambled MLB team names. Can you untangle the letters to identify teams from the Angels to the Yankees (and all varieties of "Sox")? Batter up!
The New York Mets / Chicago White Sox / Oakland Athletics / Detroit Tigers / MLB