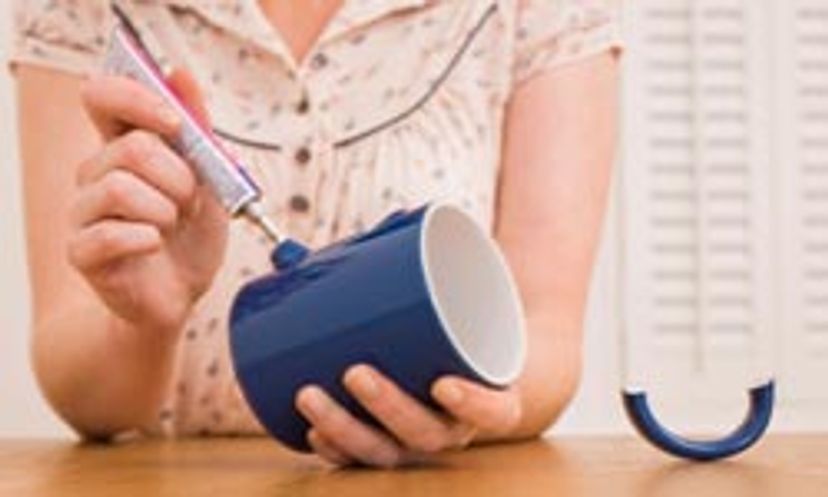 Image: Jupiterimages/Pixland/Thinkstock
What is the estimated value of the global tape industry?
The global tape industry is valued at $26 billion.
What are adhesives usually made from?
Adhesives are usually made from petrochemicals, with various levels of adhesiveness, from easy to remove to permanent.
What can you do to remove superglue from your fingers?
When your fingers are stuck together with superglue and you're at risk of losing some skin in the separation process, try acetone nail polish remover or baby oil.
Why is it a problem if there is a bit of goo left behind after an adhesive label is removed?
It can become poisonous over time.
A little bit of goo or glue left behind may not bother you initially, but over time it will attract dust and dirt and become filthy.
What is the first step to remove sticky goo?
Have a go first with regular glass cleaner. If that doesn't work, go for soap and water, rubbing alcohol or vinegar.
If soap and water, rubbing alcohol or vinegar do not work to remove sticky goo, what should you try next?
acetone nail polish remover
Rubbing alcohol and vinegar are mild solvents, acetone nail polish remover is slightly stronger. You will still need some elbow grease, though.
What sounds like an old wives' tale, but is actually very effective for removing stubborn adhesives?
Wetting a label or sticky patch with warm water and covering it with plastic wrap overnight is very effective. If that doesn't work, repeat, this time coating the goo with vegetable or baby oil.
a paste of water and yeast
If you need to do serious battle with a sticky spot, what is recommended?
commercial products designed for cleaning off motor oil
Commercial products designed for cleaning off motor oil, like Fast Orange or Goo Gone. They contain degreasing agents like d-Limonene and heptanes, so use them in small amounts in well ventilated areas.
Why are oily products effective glue removers?
They contain other chemicals which act as solvents.
They lubricate the area so that the glue slides off.
Most adhesives are oil soluble.
Oily products are effective because oil dissolves adhesives. WD-40 is another oily product that can remove glue, as well as its classic role as a rust preventer and lubricant.
What ingredients can you use to make your own homemade glue?
water, gelatin, corn syrup and extract
Three tablespoons of water, one packet of gelatin, half a teaspoon of white corn syrup and a dash of vanilla or almond extract makes an effective glue that can be used to put the stick back onto the back of your child's sticker or stamp collection.
flour, water and corn syrup
Jupiterimages/Pixland/Thinkstock