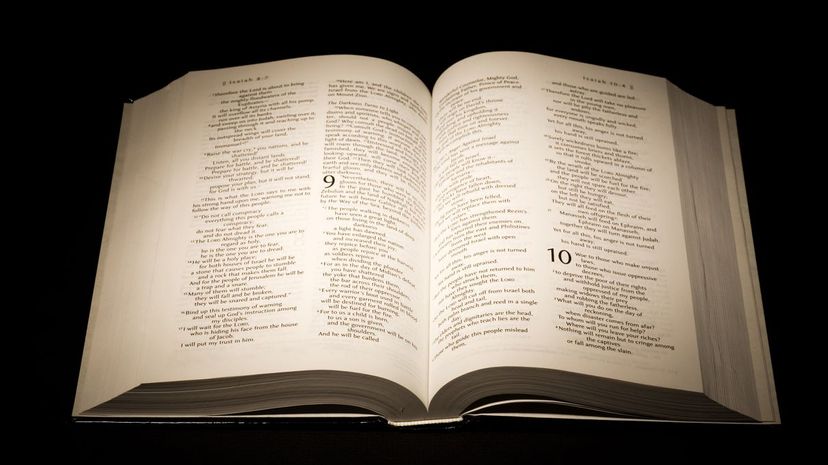 Image: bluestocking / E+ / Getty Images
About This Quiz
Let's face it: Reading the Bible is hard! Depending on the translation, the language can be difficult, and the historical and cultural details are often so different from our own world that the context of the stories can be hard to understand. Devout Christians may well read the Bible every day, but often they are reading and re-reading the parts that are familiar from books of children's Bible stories. Or they're studying the passages that are repeatedly read in church and chosen as the texts for sermons. These include the four gospels, the books of Genesis and Exodus, the Psalms and Proverbs and the letters of the apostle Paul. 
Venture beyond those, and a lot of the Bible is terra incognita to most people, even the faithful. Don't believe it? OK, what happens in the book of Micah? How about Obadiah? How is 1 Peter different from 2 Peter? Which book of the Bible does not mention God at all? Don't just ask these questions of yourself -- ask a faithful,  churchgoing friend, and you're likely to get a look of incomprehension. 
How better to deal with this epidemic of Biblical illiteracy than a quiz? (OK, there are probably lots of better ways, but we're going the quiz route anyway, because it's fun). We've mixed up real Bible quotes with great quotes from poetry and inspirational writing. All the quotes will have citations (book, chapter and verse), but the ones on the non-Bible quotes will be fictitious themselves -- and with some of them, our tongue is farther into our cheek than others, so look closely!  
Can you separate the sheep from the wolves? Good luck!
bluestocking / E+ / Getty Images