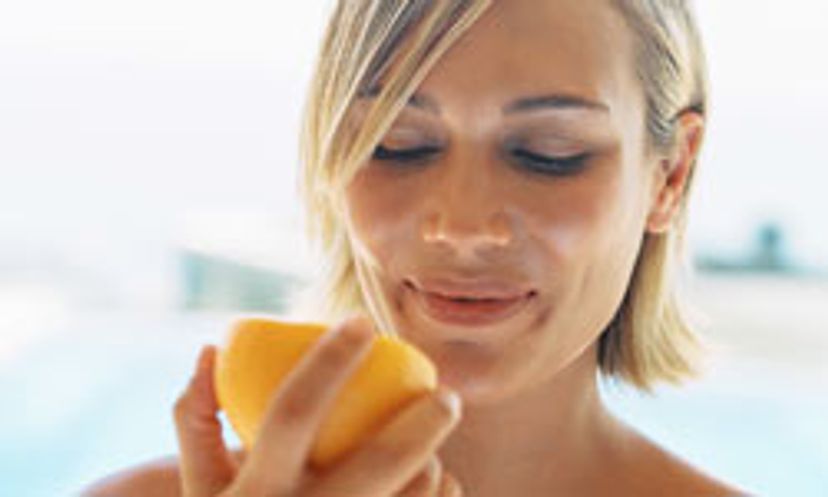 Image: ©George Doyle/Stockbyte/Thinkstock
About This Quiz
Eating a healthy, balanced diet is proven to keep us in tip-top shape, but what do you know about the foods that might fight wrinkles?
True or false: Drinking water can help improve your skin.
True. Drinking water helps improve your skin by keeping your whole body hydrated, as well as helping the body flush out toxins.
Which of the following fruits may help improve your skin?
Citrus fruits, berries and melons are all good sources of water, which will keep your skin (and body) hydrated.
What should you eat if you're trying to fight the years and keep your skin firm and tight?
soybeans and soy-based foods
Soy-based foods may give skin a firming boost.
What two things does skin lose as you age?
pigmentation and elasticity
elasticity and the ability to remain hydrated
Over the years, your skin loses elasticity and the ability to maintain hydration.
the ability to reflect UVA and UVB rays
True or false: You may have more wrinkles if you eat a lot of fats and carbs.
True. While you need both of these things in your diet, people who consume a lot of fats and carbohydrates from meat and whole-fat dairy may be more likely to face wrinkles as they age.
Choose which pair of vitamins may help prevent sun damage and improve the look of fine lines and wrinkles.
Vitamin C and vitamin E show promise in both preventing sun damage from ultraviolet rays as well as improving the look of sun-damaged skin.
Which of the following foods has the most vitamin E?
Whole grains are a good source of vitamin E.
Which of the following minerals shows potential in combating sun-damaged skin?
Selenium, found in turkey and cod, may help prevent ultraviolet rays from damaging skin.
What type of fat may help strengthen your skin and improve its appearance?
Polyunsaturated fats, such as omega-3 fatty acids, may help strengthen skin and reduce the appearance of wrinkles.
What's the leading cause of skin damage?
Exposure to the sun's ultraviolet rays causes 90 percent of skin damage.
©George Doyle/Stockbyte/Thinkstock