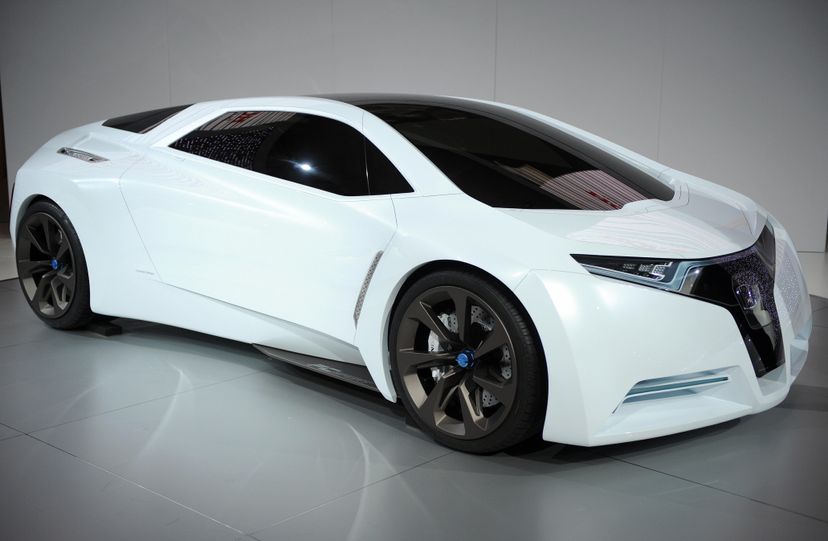 Image: Gabriel Bouys/AFP/Getty Images
About This Quiz
Fuel cells are still pricier than even premium-grade gas -- do you know why? Test your fuel cell know-how in this quiz and learn some cool fuel cell facts along the way.
What is the difference between a battery and a fuel cell?
A battery eventually dies, but a fuel cell continually recharges itself.
A fuel cell can be used only in a car, while batteries have lots of uses.
Fuel cells are cheaper than batteries.
Today's most common fuel cells use oxygen and hydrogen to create electricity. As long as there's a steady stream of these two elements moving into the fuel cell, energy will come out.
The first fuel cell was invented by Sir William Grove in:
A continually recharging energy source may sound like a futuristic technology, but Sir William Grove invented the fuel cell in 1839. The name "fuel cell" didn't show up for another 50 years, though.
If you see a car running off a fuel cell, that cell is probably a:
polymer exchange membrane fuel cell (PEMFC)
Alkaline fuel cells are pricey, and solid oxide fuel cells become unstable when they don't run continually. But a PEMFC is relatively stable and has a low operating temperature, so it's a better candidate to take the place of the gas-powered engine in a car.
What are the four main parts of a PEMFC?
the catalyst, the battery, the cathode and the anode
the anode, the cathode, the electrolyte and the catalyst
the electrolyte, the catalyst, the anode and the generator
An anode and cathode are basically the same things as positive and negative terminals in a battery. The electrolyte is a special membrane, and the catalyst starts the reaction between hydrogen and oxygen.
A PEMFC converts:
hydrogen and oxygen into water
water into hydrogen and oxygen
hydrogen and carbon into propane
A fuel cell is basically an electrochemical conversion device -- it converts chemicals to produce energy. In a PEMFC, hydrogen and oxygen combine to form water.
The byproducts PEMFC creates are:
hydrogen monoxide and water
It may seem hard to believe, but a PEMFC doesn't generate a lot of waste. Instead of greenhouse gases or air pollutants, it gives off heat and water.
What is one of the primary downsides of fuel cells?
Many fuel cells require expensive materials, like platinum. On top of that, they're generally expensive to manufacture. One of the reasons you don't see fuel-cell cars on the road is that costs a lot less to create energy by burning gasoline.
The weather can be a problem for PEMFCs because:
Their interior membrane has to stay moist for the cell to work.
The cell will short-circuit if it gets wet.
A PEMFC is very sensitive to minute changes in temperature.
The membrane inside a PEMFC has to stay moist in order for the cell to work. This means that extreme temperatures and dry environments can cause problems.
The Hydrogen Fuel Initiative (HFI) encourages the development of hydrogen and fuel-cell technologies. This initiative was announced:
by President Clinton in 2000
by President Bush in 2003
by President Bush in 2008
The HFI was one of the programs announced during President George W. Bush's 2003 State of the Union address. The Energy Policy Act of 2005 and the Advanced Energy Initiative of 2006 support the HFI.
The U.S. government is funding fuel cell research because:
Fuel cells are much more efficient than other power sources.
Fuel cells can cut down on the amount of oil Americans use.
The hydrogen infrastructure needed to support fuel cell use will be cheap to build.
Only 4.6 percent of the world's population lives in the United States, but the U.S. uses a quarter of the world's oil. Fuel cells provide a source of energy that doesn't require oil. It won't be a cheap transition, though. They hydrogen infrastructure needed to support fuel cell use may cost $500 billion.
Gabriel Bouys/AFP/Getty Images