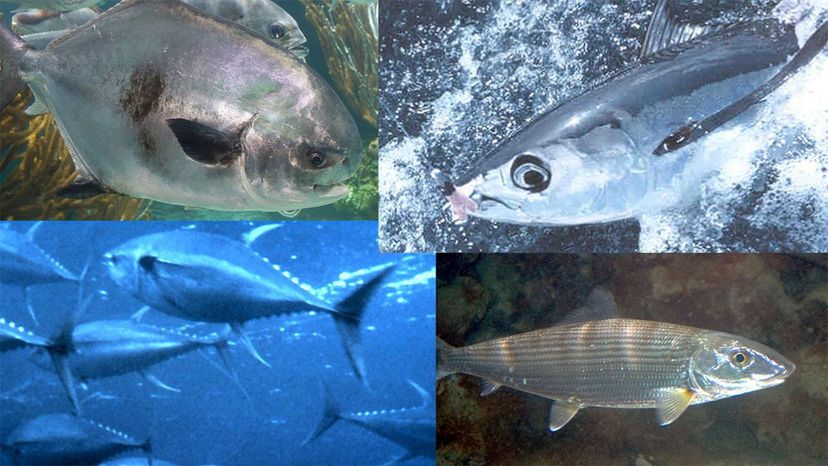 Image: By UnknownUnknown author (NOAA FishWatch (see Gallery)), via Wikimedia Commons // By Brian Gratwicke, via Wikimedia Commons // By OAR/National Undersea Research Program (NURP), via Wikimedia Commons // By Brian.gratwicke, from Wikimedia Commons
About This Quiz
Calling all captains! Grab your 1st decks and let's head out to sea! It's time to see how well you can name some of the most south-after fish! And if you're gonna be a Barney, you may as well stay home. We're lookin' for some mighty fresh ones today! Are you up for the challenge? 
Ahhh, there sure ain't anything better than waking up before dawn, grabbing that cup of joe and heading out to the port. Onto the boat you go, and before you know it, you're cruisin' 30 miles per hour out from the shore to that hot spot... the place where you'll find the big ones! The bluefins, the sailfish, the yellowfins! You've been waiting for this moment; you want that photo finish! You know what we're talking about... that photo where you hold the fish up in glory after the end of a long day out on the water! Well, if that sounds like you, we promise you'll love this quiz! So what do you say? Think you have enough experience to name them all correctly? 
Come on now, don't be a chummer! Let's get this boat in motion and see what you've got! Good luck and remember, only true fishermen need apply!
By UnknownUnknown author (NOAA FishWatch (see Gallery)), via Wikimedia Commons // By Brian Gratwicke, via Wikimedia Commons // By OAR/National Undersea Research Program (NURP), via Wikimedia Commons // By Brian.gratwicke, from Wikimedia Commons