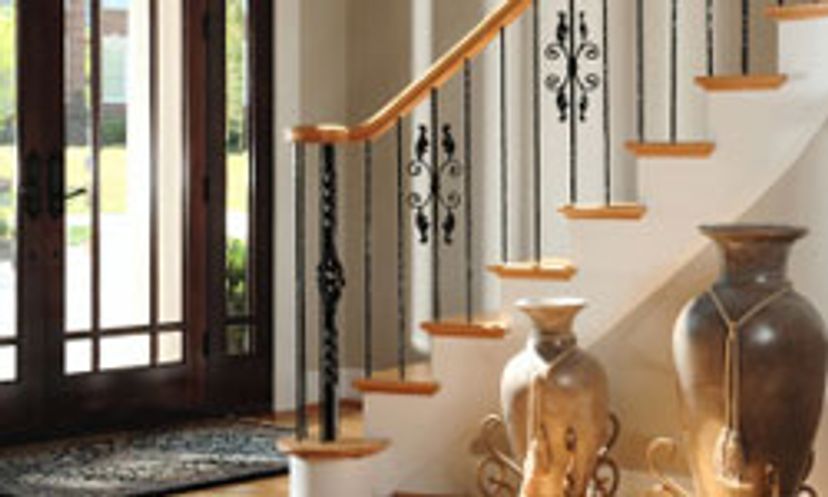 Image: iStockphoto.com/M. Eric Honeycutt
About This Quiz
You need some big decorating ideas for your spatially challenged home. Take this quiz and see how to put home spaces decorating ideas to good use.
What functional use does a foyer or entrance hall have?
It's where you receive VIPs.
It's where you gain entrance to the house, remove coats, and unload bags and briefcases.
The foyer (a.k.a. entrance hall) is your first entry to the house. It also happens to be where you offload coats and baggage.
It's a pleasant-looking corridor to the laundry room.
Your home is a formal one. What should your foyer look like?
cheerful, with cheery orange-yellow tones
warm, inviting and relaxed
equally formal and gracious-looking, perhaps with a chandelier
Your foyer is a clue to what lies beyond. Keep it formal as well, perhaps with a chandelier.
Which of these are important considerations for the design of your home spaces?
fashion, peer pressure and stylishness
taste, space, budget and function
Don't ignore your friends' opinions totally, but when it boils down to it, design your home spaces while bearing in mind their function, your taste, the spaces involved and your budget.
How does the "trompe l'oeil" technique help for tight spaces?
You make the tight spaces feel cozy and warm.
You build out alcoves to broaden them.
You trick the eye by painting to give the effect of space.
This French term means to trick the eye. It's an excellent technique for tight spaces, because you can paint the effect of space even where there isn't any; for example, an expansive, airy scene.
Entrance halls can look inviting and relaxing. What could create this mood?
a small library table, an armchair and a lamp
To create an inviting, relaxing mood, you could place a small table, a comfortable armchair and a lamp in the entrance.
lots of old family portraits
How do you fight your worst home enemy, dust, and win?
Avoid open shelves. Use ones with glass doors.
Never give up. Your enemy is defeated if you avoid open shelves and use ones with glass doors.
Do a light daily dusting over all your ornamental pieces.
Spray often with a dust remover and wipe with a soft cloth.
It's time to transform your cheerless attic into a guestroom. But how do you instill cheer?
Install a skylight to let in air and light.
Build a skylight. This will let in both air and light and make your old attic into an airy, cheerful haven.
Install wooden paneling on the walls.
Regarding entrance halls, feng shui experts believe:
They are important to ward off the evil spirits.
They have the power to influence the energy flow throughout your entire home.
Feng shui experts see the entrance hall as the source of energy that affects your entire home.
They must reflect the character of your home and family.
In wet climates, what flooring is suitable for your entrance hall?
If you can't avoid the wet, be practical. Use tiled flooring for easy maintenance.
Is there hope for a small attic? Can it be put to good use in a renovated home?
Certainly. Skylights, white walls and built-in storage spaces are an excellent solution.
You can certainly make use of an attic, even a small one. Use white wall paint, skylights and ample built-in storage.
Unfortunately not. It's best to use it as a walkthrough.
Yes. Add furniture and drapery, and you'll create a fine, spacious attic.
What sort of professional could help you design your renovation plans?
The best person for the job would be an architect or space planner.
What purpose does a hallway or corridor serve?
It leads to rooms of the house.
A hallway is an area with an important function. It gets you from place to place within your home.
It radiates cold and heat to the rooms via vents.
It gives the home occupant a feeling of coziness.
Which of these would give excitement to a long hallway or corridor?
candles at night and red brick floors
Any corridor can look exciting with a bit of ingenuity. Try romantic candles at night and rich-red brick floors.
What is popular for laundry-room décor these days?
lots of cabinet space and laundry baskets
dark, stone flooring and green-toned walls
light walls and cheerful wall decorations
Gone are the days of laundry dungeons. Today, they're bright, light and have happy wall decorations, too.
If space allows, what could you put inside your laundry room for folding and stacking purposes?
Provided you have room, use a table or counter top for folding and stacking.
a shelf over the top of the clothes dryer
iStockphoto.com/M. Eric Honeycutt