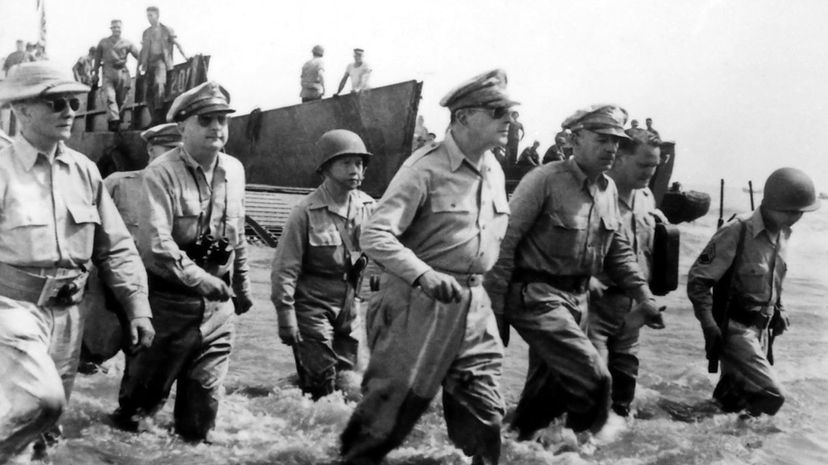 Image: US National Archives and Records Administration via Wiki Commons
About This Quiz
Get better acquainted with the World War II masterminds who changed the way nations fight wars. This is the ultimate Second World War generals quiz. Movies and television shows have told their tales, but now you get to test your knowledge of facts here!
Chief commanders, like Douglas MacArthur, George Marshall, Hideki Tojo, Henry Arnold and many other distinguished career soldiers, remain the celebrities of the military world, and for good reasons. These generals helped manage diplomatic as well as military affairs. Douglas MacArthur and U.S. President Franklin D. Roosevelt were friends, but MacArthur didn't hesitate to check Roosevelt on his war policy. Militarily, MacArthur defied top commanders whenever he saw fit, having snubbed the orders of Dwight Eisenhower, who was a five-star general as well as a supreme commander, a few times. MacArthur's South Pacific campaigns were risky, but his strategies managed to restrict the reach of Axis powers considerably.
Our quiz also investigates lesser-known generals of World War II, such as Wladyslaw Sikorski, who served as Polish Prime Minister in exile; Stefanos Sarafis, who was instrumental in seeking Greek independence and subsequently jailed and "Taras" Shukhevych, who assumed the role as general of Ukraine's liberation pursuits. 
Demonstrate your knowledge of these and so many more World War II generals!
US National Archives and Records Administration via Wiki Commons