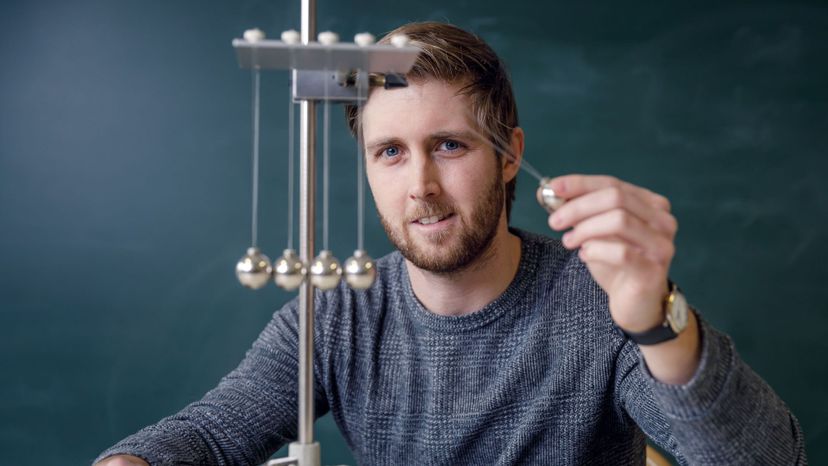 Image: Martin Steinthaler / Moment / Getty Images
About This Quiz
Classical mechanics is the study of objects in motion, including a state of non-motion. Sometimes referred to as Newtonian mechanics, classical mechanics analyzes why things move (or don't move) the way they do. Like you may have guessed from the name, Isaac Newton was instrumental in developing the knowledge in this field. His three laws of motion are instrumental building blocks of classical mechanics. 
Newton's 1st Law of Motion states that a body at rest will remain at rest, and a body in motion will remain in motion unless it is acted upon by an unbalanced force. This one explains the importance of wearing a seatbelt. Without a seatbelt to exert a force, a driver or passenger will continue his or her forward motion until hitting something else, often the pavement. Newton's 2nd Law states that the net force acting on an object is equal to the mass of that object times its acceleration. This is better summed up in the famous equation, F = ma. Newton's 3rd Law states that for every action, there is an equal and opposite reaction. Without this law, we would have never been able to launch a rocket and explore space!
Several other scientists have contributed to the field of classical mechanics as well. Galileo Galilei, Julius Robert Mayer, Daniel Bernoulli and many others have lent their superb observational and mathematical skills to the development of the physics of motion. Classical mechanics is the backbone of physics, astronomy and engineering. Scientists will continue to make incredible discoveries thanks to the laws and principles making up this branch of science. May the mass times acceleration be with you on this quiz!
Martin Steinthaler / Moment / Getty Images