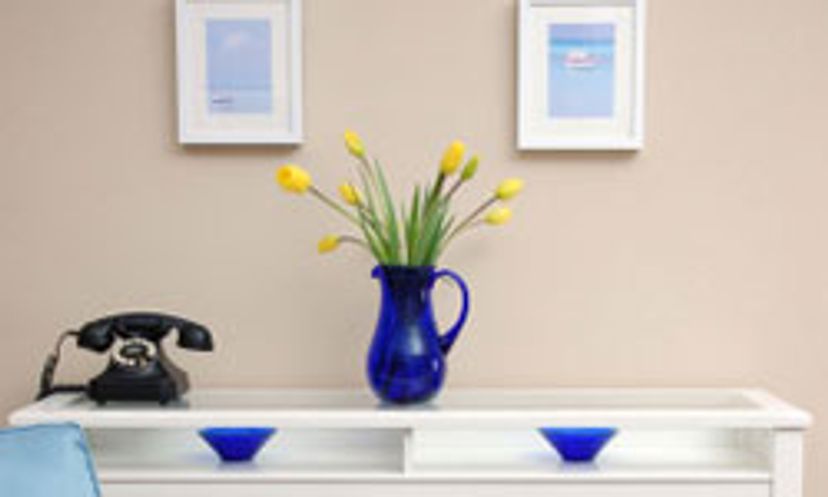 Image: iStockphoto.com/Sarah Bossert
About This Quiz
Art that you are proud to display doesn't have to cost a lot. From knowing where to look for inexpensive finds to less costly do-it-yourself art, there are plenty of ways to decorate your house without spending a fortune. Find out how much you've learned about inexpensive art by taking this quiz.
What is the benefit of buying art from a self-representing artist?
Since these artists are not represented by galleries, you do not have to pay the galleries' fees when buying their art.
What should you check before purchasing art from a self-representing artist via the Internet?
that the piece you are buying is an original
Sometimes a website does not make clear whether a work of art being sold is a print or an original. This obviously would affect the price, so you should check this before buying.
that you can get a tax deduction
that only natural paints were used
How can an outdoor advertisement supply you with inexpensive art for your home?
You can frame a copy of it.
Just because they are advertising a product doesn't mean it isn't art. Cut out or get your hands on a copy of an advertisement that speaks to you and turn it into an inexpensive wall hanging.
They can direct you to talented graphic designers.
They can highlight the design styles that are currently popular.
What is particularly attractive about the posters for local events and performing arts?
They are often made by local artists.
Festivals and shows often have posters that you can buy or get for free while also showcasing the work of local artists.
They can serve as nostalgia as well as art.
They work within the color schemes that are common in your area.
How can you best display flowers from special occasions?
pressing them and putting them in small frames
Mounting the dried flowers on a contrasting color of cloth can make them stand out as well.
leaving them in a crystal vase
photographing them and blowing up the prints
How can you transform personal photos in a creative fashion?
Print them on regular printer paper, mount them, and paint over the lighter areas.
Decoupage glue is useful for mounting the paper on a blank or pre-painted canvas.
Cut them into pieces and singe the edges.
Paint your own interpretations of them on large canvasses.
What should you coat a piece of wood with before displaying it?
This type of stain not only will color the wood nicely, but it will also protect and preserve it.
Other than the stain, what else do you need to transform an old piece of wood into a piece of stained art?
a rotary tool, sandpaper and a paintbrush
Cut a pattern into the wood with the rotary tool, sand it down and then paint the pattern with dark stain. Cover it all afterwards with a lighter, more basic stain.
a hot metal brand and clear plastic resin
a hot glue gun and some shiny sparkles
What is a unique way for you to display photos of your extended family?
by displaying them on a literal "family tree" made of wood, wire and tiles
The family tree project is a fairly involved one, but can provide you with family bonding time while growing the tree from scratch.
by framing them in different types of frames and hanging them next to each other
by gluing together pictures from different generations and eras
What can supply the shape for a creative fabric caterpillar for a child's room?
Drape light fabric over the vases and spray fabric stiffener on it to form the body of your caterpillar.
iStockphoto.com/Sarah Bossert