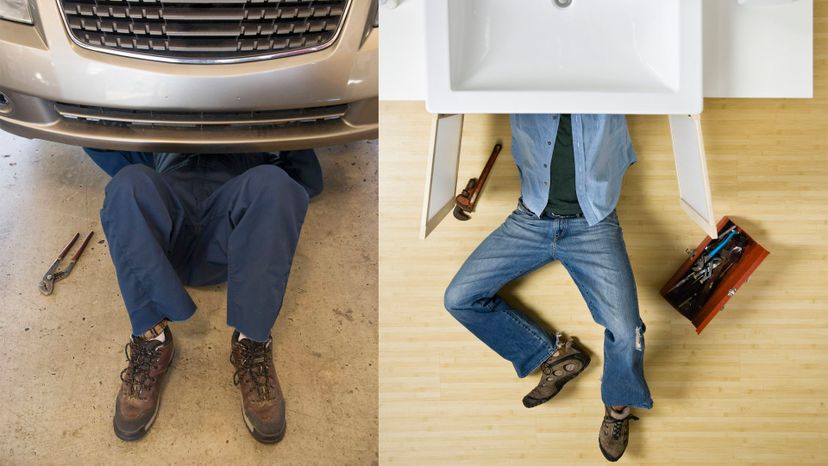 Image: Andersen Ross Photography Inc/DigitalVision/Getty Images; Jacobs Stock Photography Ltd/DigitalVision/GettyImages
About This Quiz
Tools are used by a variety of professions, including plumbers and car mechanics. Some tools are very versatile, while others aim to accomplish a specific job. In this quiz, we've compiled a list of 40 different types of tools. Some are used for plumbing work, while others are used for engine repair work.

Examples of engine repair tools include a needle scaler and a nut splitter. A nut splitter, for instance, is used to break nuts and bolts, while a needle scaler is used to strip away dust and rust from car parts. These are very different from plumbing tools, which includes pipe cutters, pipe benders and angle grinders. Let's take a closer look at some of these plumbing tools.

A pipe cutter is used to cut a variety of pipes in varying degrees of thickness. A plumber will also carry a pipe bender with them, which does exactly what its name implies: It bends pipes! An angle grinder is a more dangerous type of tool, but it's very useful for cutting a wide variety of hard objects. It even looks like a pizza cutter! This quiz is a list of 40 tool images, as well as a brief description of the tool. All you have to do is identify if it's a plumbing tool or an engine repair tool. Take this quiz now to see if you can score a 100%!