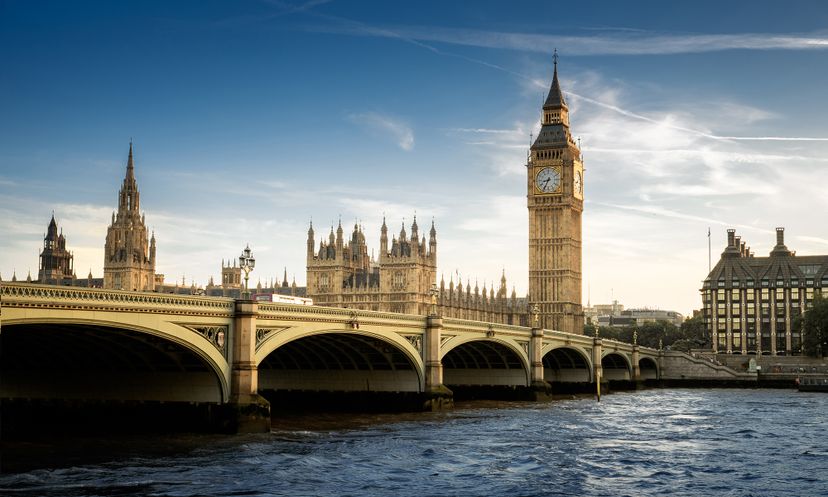 Image: TangMan Photography/Moment/Getty Images
About This Quiz
Cheerio! Don't fret if the queen rejected your invitation to tea. You can still find out all about the wonderful attractions of London with this quiz.
Rosetta Stone?
Try translating some Egyptian hieroglyphics at the British Museum.
Geoffrey Chaucer's grave?
Pay tribute to the man who wrote "The Canterbury Tales" at Westminster Abbey.
Big Ben?
a statue in Trafalgar Square
Paddington Station?
the home of Paddington Bear
Mind the gap when you catch the train at Paddington Station.
St. Paul's Cathedral?
designed by Gian Lorenzo Bernini
designed by Christopher Wren
Nice job on St. Paul's Cathedral, Sir Chris!
Oxford Street?
a street lined with stores
You're apt to spend all your pounds on Oxford Street, the longest shopping street in the world.
the street where the Great Fire broke out
a street in the theater district
Summer Olympics?
held in London in 1928, 1936, 2012
held in London in 1948, 1972, 2012
held in London in 1908, 1948, 2012
When London hosts the 2012 games, it will become the first city to host the Summer Olympics three times.
London Eye?
One ride takes 15 minutes.
One ride takes 30 minutes.
One spin on the London Eye takes about 30 minutes.
One ride takes 60 minutes.
Buckingham Palace?
official London residence of the monarch
Wave at the queen when you visit Buckingham Palace, her official London residence.
summer residence of the monarch
office park for the prime minister
Piccadilly Circus?
world's largest stop sign
Abbey Road street sign made famous by the Beatles
an intersection flanked with neon signs
You won't need a flashlight amidst the neon signs at Piccadilly Circus.
TangMan Photography/Moment/Getty Images