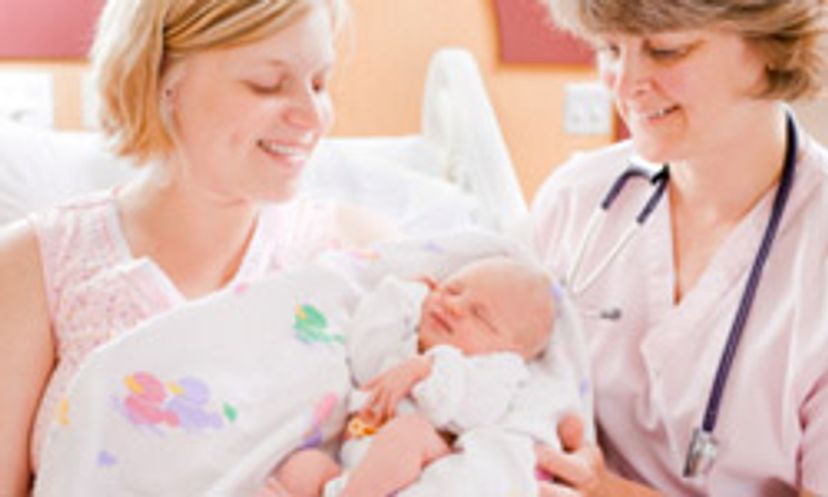 Image: LaCoppola-Meier/Lifesize/Getty Images
About This Quiz
These days, some women won't give birth unless they have a doula and a midwife by their side. How much do you know about what these birth attendants do? Test your childbirth knowledge with this quiz.
What does a doula do?
administer a constant flow of pain medication
assist the doctor in deciding how to proceed with labor
provide emotional and physical support for a birthing mother
Doulas are all about taking care of moms-to-be with emotional and physical support. You might see a doula massaging a laboring woman, wiping her forehead with a cool cloth or leading some breathing exercises.
What task does a midwife perform that a doula doesn't?
provides advice on which positions work best for labor
helps with medical decisions and catches the baby as he or she is born
The duties of midwives and doulas can overlap, but midwives are responsible for medical decisions and catching the baby.
performs massage to comfort the mother
What sets the services of a doula apart from those of a midwife?
The doula is more expensive.
The doula works better with doctors and nurses.
The doula will be with you every second of the birth.
Midwives will likely be present for more of a birth than a physician, but they may have several patients to tend to in one day. A doula will be there for the entire time.
What do doulas and midwives have in common?
Both doulas and midwives have equivalent levels of education (usually a Master's degree).
Both doulas and midwives are certified to practice by the American Medical Association.
Both doulas and midwives have been linked with better birth outcomes, including a reduced need for cesarean sections and epidurals.
Though the American Medical Association offers no standard certification or level of education for these birth professionals, studies have linked midwives and doulas to better birth outcomes, including a much reduced need for a c-section.
Who is considered the mother of authentic midwifery?
Actress and talk show host Ricki Lake publicized midwifery and natural birthing, and Mary Breckinridge worked to bring midwives to underserved rural areas, but it's Ina May Gaskin who's considered the mother of the modern midwife movement in the U.S., thanks to her book "Spiritual Midwifery."
What controversial practice are direct-entry midwives linked to?
Direct-entry midwives often perform their duties in a woman's home, which is illegal in some states. No state prosecutes mothers for home birth, however.
Midwives tend to work with low-risk pregnancies. Which of the following factors indicates a high-risk pregnancy?
a first-time mother over the age of 40
a history of past delivery problems
Older mothers or women with a history of problematic childbirths aren't ideal clients for midwives. Other complicating factors might be gestational diabetes or the presence of multiple fetuses.
What is a CNM?
childbirth novice midwife
Center of Natural Midwifery
A CNM is a certified nurse-midwife, which refers to someone trained as both a nurse and a midwife. CNMs are registered by the American College of Nurse-Midwives and posses a state license to practice their craft.
One study showed that labor can go much more quickly for women using doulas compared to women without doulas. How much shorter was the labor?
Research has shown that doula-assisted childbirth is 25 percent shorter than births without doulas.
How many births do doulas in the United States attend?
less than 5 percent of births
Doulas attend less than 5 percent of all births in the United States, largely because their role isn't well-understood in this country. In other places, doulas are much more common.
between 15 and 25 percent
LaCoppola-Meier/Lifesize/Getty Images