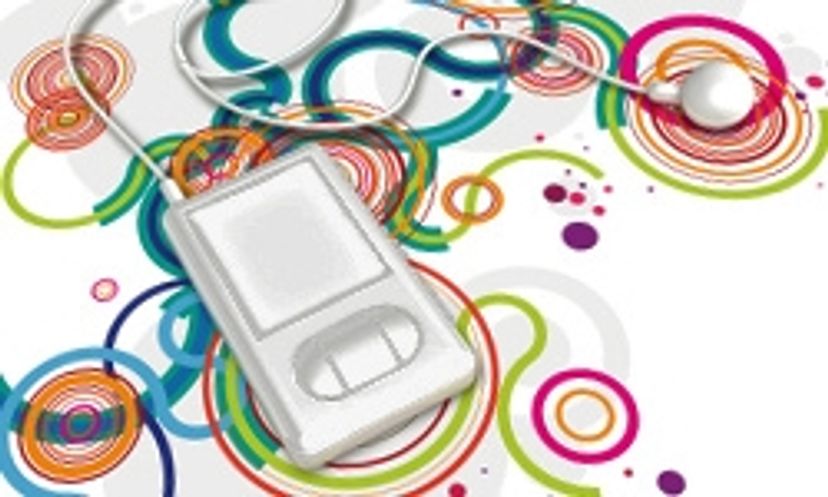 Image: John Bloor/iStockphoto
About This Quiz
If you're a music lover and own a portable MP3 player, chances are you've used an MP3 file recently. An accessible and easy-to-use format, MP3s have changed the way people listen to and distribute music. But how do MP3s work?
What type of format is an MP3 file?
CD-quality music files are very large and would require lots of time to download. The MP3 format is a compression system (also known as a "lossy format") that aims to compress a digital song from a CD without noticably affecting the sound quality. This lets you download songs in minutes rather than hours, and makes it possible to store a lot more music on your computer.
What's the key to sound quality in an MP3 file?
The number of bits per second encoded in an MP3 file -- the bit rate -- will affect the sound quality of a song. This makes it possible to create two different files of varying sound quality and file size.
What's a typcial bit rate for an MP3 file?
Bit rates range from 98 Kbps (kilobytes per second) to 320 Kbps -- the lower the bit rate, the more information the encoder discards when creating the MP3 file, creating a song with lower sound quality. Bit rates of 128 Kbps usually result in a sound quality equivalent to that of radio broadcasts. Music sites that want to offer songs that are closer to CD quality tend to offer bit rates of 160 Kbps -- when the band Radiohead offered its album "In Rainbows" at a pay-what-you-want price in 2007, for instance, fans downloaded files with a bit rate of 160 Kbps.
What does MPEG stand for?
Moving Picture Experts Group
MPEG is the acronym for "Moving Picture Experts Group," the organization that developed the compression standard upon which the MP3 is based. The name "MP3" itself actually stands for "MPEG-1 audio layer-3." The group has also developed compression systems for video, including DVD, HDTV broadcasts and DSS satellite systems.
Music Playback Encoding Generator
Multiple Play Ear Grabber
Which of the following do you not need to make use of MP3 files on your computer?
While you can certainly use a microphone to record your own songs and convert them to MP3 files, you don't need one to download or listen to MP3s. You will need an MP3 player program, and a sound card with speakers or headphones for you to listen to the files on your computer.
What method won't keep an MP3 file stored on your computer?
Purchasing and downloading some from an online store
Streaming some from a Web site
Although you'll be able to listen to an MP3 file perfectly fine by streaming it from a Web site, that won't store the song onto your computer -- you'll have to continue to access the Web site if you want to keep listening to it, and often sites will keep MP3s up for a limited time. The best way to ensure a song will stay among your files is to download it or to rip it from a CD.
What is a data CD?
A CD that holds only Excel spreadsheets
A CD that holds only an album's worth or so of music
A CD that holds several albums' worth of music
By creating a data CD with a writable CD drive, you can hold lots of music on just one CD -- several albums worth. Because MP3s are fairly small in size, you can fit many more files onto a data CD. The downside is that although a computer can play music from a data CD, not all CD players will play them. Creating an audio CD, on the other hand, will limit your space to about 80 minutes of music, but chances are it'll play on most CD players.
An artifact is:
An error generated by an encoder
Have you ever listened to an MP3 file and heard pops or other strange sounds that don't really belong there? An artifact is an error in an MP3 that an inferior encoder has created.
An outdated encoder that compresses music files very slowly
MP3 players generally use two types of ports to transfer data. Which of these isn't one?
MP3 players use either FireWire or USB ports to move files from a computer to the player. Software applications make the process smoother for users, usually by allowing listeners to drag files into a list. An Ethernet port, on the other hand, allows you to connect to the Internet.
How can artists maintain control over their music on the Web?
Look into a Creative Commons license
The Internet has proved to be a successful tool for many upstart bands, but sometimes lots of hard work can be ruined when a new album is leaked before the release date or an artist is losing too much profit to illegal downloads they're not comfortable with. Looking into a Creative Commons license is one option for musicians who want to have a sense of control of how their music is distributed while continuing to reach out to fans over the Internet.
Ask fans nicely to not illegally distribute music
John Bloor/iStockphoto