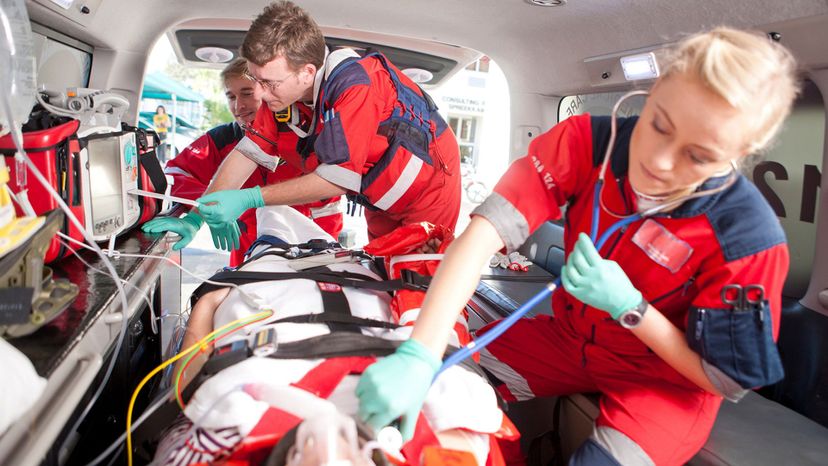 Image: Zero Creatives/Cultura/Getty Images
About This Quiz
Other than your neighbors, emergency medical technicians, or EMTs for short, are likely to be the first people on the scene when you have a medical crisis. As first responders, they have to be trained in a variety of areas. They need to be able to assess the safety of a scene -- the EMT's first priority is to stay safe enough to provide good care. They are trained in communicating clearly with people who are confused or panicked, who are under the influence or whose first language is not English. They learn to recognize suicidal behavior, deal compassionately with those who have drug-abuse issues. and sometimes coax the resistant into coming to the ER for followup treatment. 
Perhaps you've harbored ambitions to be an emergency medical technician, or just wonder how you might fare as one. It's not a job to be taken lightly. Like doctors and nurses, EMTs need a solid grounding in anatomy and understanding of the human body, a familiarity with common illnesses and accident traumas, and with medications and treatments. Beyond that, EMT students get a solid (if not lengthy) education in legal and ethical issues. How far can you go in persuading a patient not to refuse care? What kind of sensitive patient information is too sensitive to be transmitted over the radio? 
If you think you've got what it takes, tackle our quiz on the world of the emergency medical technician. Just don't call 911 if you get stuck!