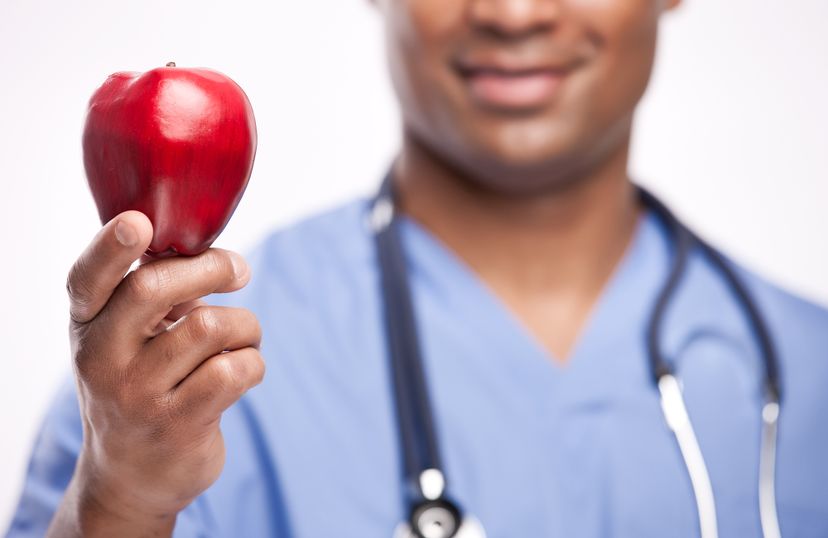 Image: Jacom Stephens/E+/Getty Images
About This Quiz
In spite of highly developed medical technology and scientific research, old wives' tales continue to live on. We hear everything from the plausible "an apple a day keeps the doctor away" to the ridiculous "a cat can steal the breath from a baby's mouth." Think you can distinguish between the facts and the folklore?
One of the most well-known myths: Feed a cold, starve a fever.
Almost fact: Try to eat nutrient-rich foods while you have a cold. Stay away from food if you have a fever.
Load up on nutrient-rich foods, like chicken soup, and liquids while fighting both colds and fevers. Your immune system needs the energy to battle infections.
Carrots help you see in the dark.
Almost fact: Studies show carrots are good for eyesight because they contain vitamin A. Extra vitamin A, however, will not improve eyesight in the dark.
Carrots contain vitamin A, which is important for eyesight. Like other vitamins, going overboard on vitamin A intake isn't beneficial.
You can only get tetanus if something rusty punctures your skin.
Almost fact: A clean metal surface or an animal scratch can also cause tetanus.
The basic idea is that rusty metals have had more exposure to the bacteria that causes tetanus. But tetanus can live on clean surfaces, in animals' mouths and even in dust on a city street.
Fish is good for the brain.
Almost fact: Shellfish has minimal brain benefits compared to other seafood.
Everything from lobster to canned tuna contains omega-3 fatty acids, which have been shown to improve cognitive ability.
Eating bread crusts will make your hair curly.
Almost fact: Only the crust on wheat bread will cause your hair to curl, and you have to eat a lot of it!
The crust on bread will not make your hair curly, but it does have other beneficial properties. The crusts contain pronyl-lysine, an antioxidant created during the baking process. Pronyl-lysine creates enzymes that help prevent cancer.
Coffee stunts your growth.
Almost fact: A little coffee is no big deal, but too much will keep a child from growing properly.
There is no connection between coffee consumption and height. But too much added sugar in a cup of joe can make anyone gain weight.
Thumb sucking ruins teeth.
Almost fact: For babies it's OK, but as children get older it can cause permanent teeth to grow in improperly.
Thumb sucking can help babies and young children relax. However, as children get older and permanent teeth come in, thumb sucking can cause dental problems.
Cracking your knuckles will give you arthritis.
Almost fact: If you have been cracking you knuckles since you were a child, you will most certainly have arthritis in the future. But if you pick up the habit later in life, it doesn't matter.
Cracking your knuckles won't cause arthritis. Cracking may weaken the ligaments in your fingers, though, which can lead to potential injuries.
Carrying high during pregnancy means a girl is on the way.
Almost fact: It's the opposite. Women carry lower with girls.
Absolute fiction. Women are more likely to carry high if it's their first child or if they are physically fit. After the first child, stomach muscles loosen, causing them to carry lower.
Reading in the dark will permanently damage your eyes.
Almost fact: If you read in the dark for more than two hours, permanent damage will occur.
Nothing awful will happen if you read in the dark, but lighting makes reading easier on the eyes.
Jacom Stephens/E+/Getty Images