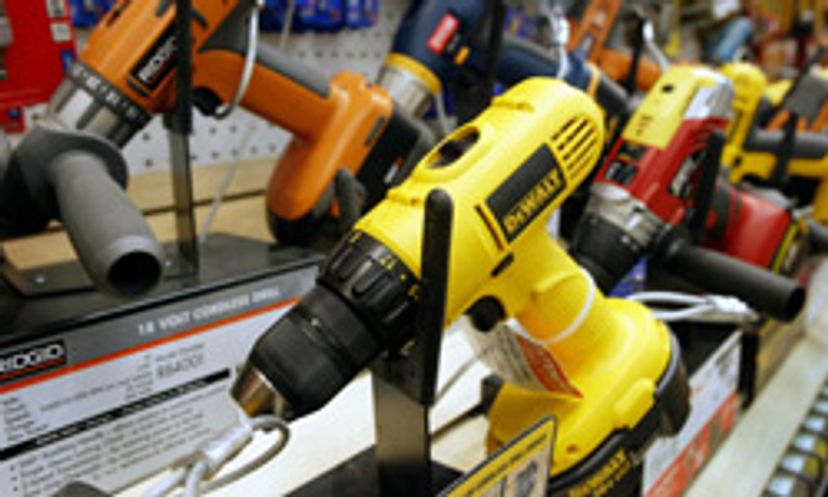 Image: Photo by Scott Olson/Getty Images
About This Quiz
So, you think you know your power tools? You would never confuse a disc sander with a random orbit sander, right? Show your stuff. Read our descriptions of these power tools and see if you can figure out what we're talking about.
The most popular woodworking tool -- used for carving work, joinery and cutting edges, among many other things.
Routers are pretty much the most versatile tool out there -- most people who are even halfway serious about woodworking have a good selection of them for different jobs.
Makes cuts in wood with a spinning circular blade whose angle can be adjusted.
A miter saw's spinning blade is set at a 90-degree angle, but you can change the angle using the miter index.
Attaches two pieces of wood by cutting a narrow hole in the edge of each piece, into which you insert a wooden "biscuit" covered in glue.
Yes, it does sound like something you'd use in the kitchen, but a biscuit joiner is for wood -- please don't try to cook with it.
Comes in pistol-grip, T-shape and right-angle handle styles.
Everyone needs a drill, right? One of the first things you should decide when buying one is what kind of handle you like best.
Uses compressed air to tighten a nut or bolt, for example.
An impact wrench can make your tightening or unscrewing job a whole lot easier.
Can cut curves and custom shapes into wood.
It's actually pretty difficult to cut a straight line with a jigsaw, which is a common saw for cutting curves and designs.
Are available in "stick" or "coil" style.
Nail guns are the answer when a plain old hammer just won't do. "Stick" and "coil" refer to how the nails are loaded into the gun.
Spins a piece of material (like wood, glass or metal) so you can create a symmetrical object.
The lathe was the first power tool -- the ancient Egyptians used them. Baseball bats and candlesticks are produced on lathes, and pottery wheels are a type of lathe.
Has a selection of bits for cutting, carving, polishing and sanding.
If you're looking to round out your power tool collection, you definitely need a rotary tool. Among other things, these versatile tools can cut fiberglass and marble, shape metal, remove grout and strip old paint.
Has a blade that cuts with a push-pull motion.
A reciprocating saw's blade has a foot at its base to help you take advantage of the push-pull motion. You can use them to cut tree branches, and they're also common in demolition jobs.
Photo by Scott Olson/Getty Images