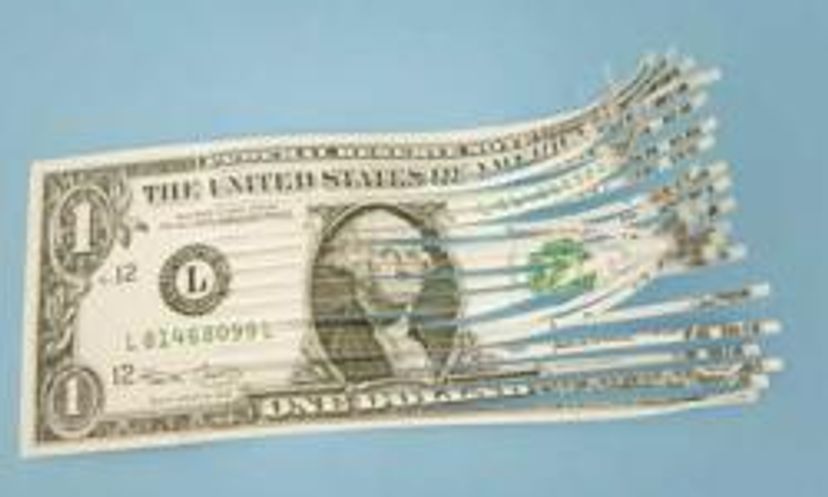 Image: Walter McKenzie/Digital Vision/Getty Images
About This Quiz
Recession is one word you might be tired of hearing -- especially if you have any money in the markets. Just the same, it's still good to know what's what where your wallet is concerned. So put your money where your mouth is, and take this quiz.
Let's refresh on the basics real fast. What's the common definition of a recession? A country is in a recession when the nation's economy:
suffers longer than one year
slows down for at least six months
ranks as less productive when compared to those of countries with similar expected gross domestic products
A decline in a nation's gross domestic product (GDP) for two business quarters (six months) is the conventional definition of a recession, with additional emphasis on several factors. These generally include people buying fewer goods, a decrease in factory production, growing unemployment levels, a decline in personal income and an unhealthy stock market.
In an economy, can a person be both a producer and a consumer?
No -- only companies count as producers.
Yes -- people usually have roles as both producers and consumers in an economy.
Sort of -- if you're a factory worker or someone who actually creates something at work, then you are. If not, you aren't.
You bet they can! Chances are good you spent some time working today -- that makes you a producer. Did you swing by the grocery store on the way home? That makes you a consumer too. If you slotted some quarters into the vending machine at work -- you were doing both at the same time.
So if we're all producers and consumers -- who gets to set the prices?
Individual consumers play an indirect role in product pricing through their willingness to buy a product at a given price, but unless product pricing is your specific job responsibility, you don't have a direct say in the matter.
Product prices are determined based on the cost of manufacturing, without an eye to consumer behavior.
Companies conduct market studies of consumer behavior, but ultimately they price their products based on what government standards say they're worth.
Just because we all produce and consume usually doesn't mean we have a direct role in product pricing (like making those cute jeans or fancy watches a little cheaper). Prices are set by producers who examine consumer behavior and see where a product's supply and demand cross paths -- with an eye on the competition's prices too.
What's the main factor that causes an economy to launch into a recession?
Producers amp up production too fast for people to consume their products.
Consumers start to worry about their bills, producers examine their tight bottom lines and everybody loses their confidence in the strength of the economy.
Both of those -- and then some.
Those two factors can both help kick-off a recession, but recessions are often characterized by downward spirals that snowball through a number of events. Take this possible scenario: Consumers lose confidence in the state of the economy and start buying fewer products. Businesses notice this trend and react by laying people off, scaling back production and consuming fewer raw materials. Unemployed workers, as well as those worried that they might be next, also start consuming less. Investors get wind of all this and become concerned by how it could affect the markets, often cutting their investments and destabilizing the stock market. It's a vicious circle that can be hard to pull out of.
Is there an economic pattern for recessions and subsequent periods of expansion?
No -- it's a completely unpredictable process.
Sort of -- but it's very difficult to determine any specific pattern until several years have passed.
Yes -- it's called a business cycle.
A regular pattern of expansion (usually occurring for six to 10 years) and contraction (generally lasting six months to two years) is typically the norm. The turning point directly before a recession is called the peak, and the low point right before things start to brighten is called the trough.
Who's the official word on recession in the United States?
The Board of Governors of the Federal Reserve System
The Business Cycle Dating Committee of the National Bureau of Economic Research
The Executive Directors of the World Bank
The Business Cycle Dating Committee of the National Bureau of Economic Research gets to say what's what when it comes to recessions and expansions of the U.S. economy. The NBER is a private, nonprofit, nonpartisan research organization conducting and sharing unbiased economic research.
So how exactly does a country get out of a recession?
The government has to step in and save the day.
Businesses and investors need to get their acts together and quit messing around.
There is no sure-fire way to end a recession, but some actions on the part of the government can help.
There are two basic macroeconomic policy routes a government can follow in an attempt at lifting a recession -- fiscal and monetary.
What do fiscal policies include?
Fiscal policies deal with how the government spends and collects money.
Fiscal policies deal with how the central bank controls banks and interest rates.
Fiscal policies deal with how the treasury department mints money.
Fiscal policies are government policies addressing taxation and spending. When the economy is sluggish, some fiscal policies a government might choose to enact include tax cuts and increased government spending. Automatic fiscal policies like unemployment insurance are also in this category. If you got a stimulus check in the summer of 2008 -- you've seen fiscal policy in action.
How about monetary policy -- what's going on there?
Monetary policies deal with how a nation's central bank -- like the U.S. Federal Reserve -- regulates money supply and interest rates.
Monetary policies deal with how the National Bureau of Economic Research guides the market.
Monetary policies deal with how investors, venture capitalists and others on Wall Street are allowed to buy and sell.
Monetary policies are the babies of central banks. The U.S. Federal Reserve Bank, for example, is in the news a lot when it sets national monetary policies by adjusting the banking system's reserves. Some actions the Fed can take to try to ease a recession include lowering the reserve requirement (the amount of money banks have to stash safely away), lowering the discount rate (how much the Fed charges for loans to banks) and increasing open market operations (buying up government securities like bonds to increase the money supply).
How does a recession end?
The economy naturally reaches a level of poor performance that it can't dip below, and from there it heads back up.
As soon as unemployment levels go back down and personal income levels go back up, a recession is over.
It's a gradual shift back in the right direction -- there are too many factors involved for any one quick fix.
Sorry, no Band-Aids for an economy with a boo-boo. With millions of people, billions of factors and trillions of dollars all wrapped up in a modern national economy, ending a recession usually just takes a little bit of time and patience. Eventually, the upward spiral kicks back in and things start to look sunnier on the financial horizon.
Walter McKenzie/Digital Vision/Getty Images