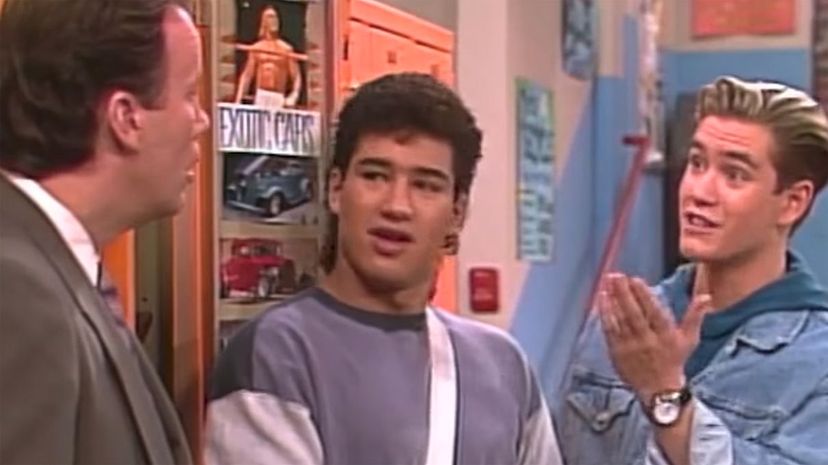 Image: NBC
About This Quiz
Do you remember the name of the school that Zack, Kelly and the gang attended? Or, the name of the principal unlucky enough to be responsible for keeping the group out of trouble? What about Screech -- do you know his real name? Prove your "Saved by the Bell" savvy with this quiz!
Can you imagine "Saved by the Bell" without Slater, Jessie and Kelly? Believe it or not, these three were never supposed to be on the show. And while Zack Morris might seem like the center of the show, he started off as just a minor character.
The show that would become "Saved by the Bell" premiered in 1988, and was known then as "Good Morning, Miss Bliss." Back in those days, the series was meant as a vehicle for "Parent Trap" star Hayley Mills, who played a teacher named Carrie Bliss. "Miss Bliss" was set in an Indiana middle school, and while Mark-Paul Gosselaar appeared, he was far from the star of the series.

All that changed the next year when producers realized that the series would work way better if the kids were the stars. In 1989, Miss Bliss got the boot and "Saved by the Bell" premiered. This revitalized series was set in sunny California and featured characters not found in the original series -- including army brat A.C. Slater, brainy Jesse Spano and cute cheerleader Kelly.
Over the next five seasons, viewers watched Zack and Slater fight over Kelly, Screech pine for Lisa and Mr. Belding try to hang onto his remaining hair. The series eventually spawned several spin-offs, which ran through 2000.
Think you know everything there is to know about the series? Take our quiz to prove it!