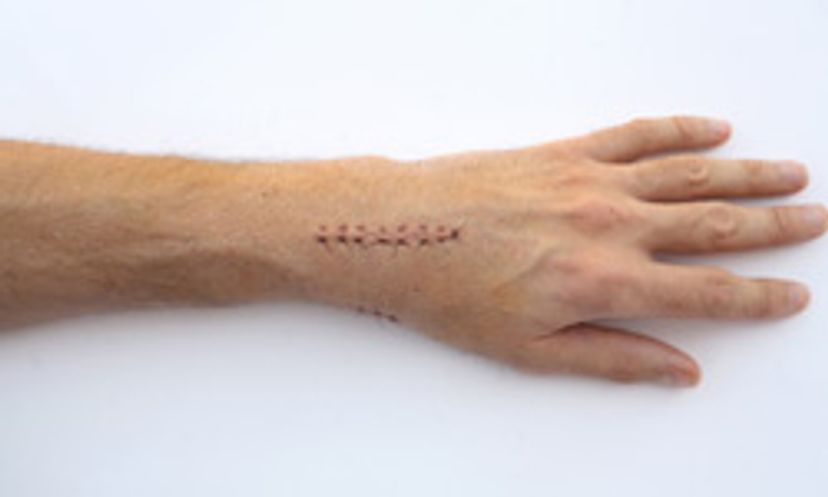 Image: iStockphoto.com/Richard Walters
About This Quiz
We all have scars, although most of them are pretty minor and easily hidden or overlooked. But sometimes a scar is just too big, strangely shaped or discolored to be ignored. The good news is that most scars can be reduced or removed fairly easily -- but what happens when it's not so easy? Take our quiz and find out about your other options.
Most scar removals are covered by health insurance.
almost fact: Cosmetic scar removal usually isn't covered.
You have a good chance of being covered if you can prove medical necessity for the scar removal. Otherwise, you might be out of luck.
Scars are made of collagen, which is a different color and texture than your skin.
Your body uses collagen to repair damaged tissue.
almost fact: Scars are made of kelatin.
One common scar-removal method is silicone injections.
almost fact: It's cortisone injections.
One common scar-removal method is cortisone injections.
Most scars can be removed quickly, on an outpatient basis.
Generally, only the most severe scars require surgery or a hospital stay.
almost fact: About half of all scars require surgical removal.
Only a small percentage of scars can be totally erased.
Unfortunately, there are no scars that will completely disappear, no matter what treatment you get.
almost fact: About a quarter of them can disappear without a trace.
Doctors can actually move scars during removal surgery.
almost fact: Well, they can't move a scar from a leg to your arm, but they can change its position a bit.
A common technique is to move the scar slightly so it's less noticeable.
One scar-removal method is skin resurfacing with a carbide laser.
Nope, the skin resurfacing is done with a carbon dioxide laser.
almost fact: It's a zinc-based laser.
A pulsed dye laser uses yellow dye to decrease a scar's redness.
Yellow it is, and pulsed dye lasers can also reduce raised scars.
almost fact: It's purple dye.
If you have an indented scar, your doctor might use a collagen injection to fill it.
Yes -- even though most scars themselves are made of collagen, doctors use it to raise indented scars.
almost fact: Collagen is used on raised keloid scars.
Chemical peels are a common method of acne-scar removal.
Dermabrasion is actually one of the best ways to remove acne scars.
almost fact: Acne scars are best treated with topical ointments.
iStockphoto.com/Richard Walters