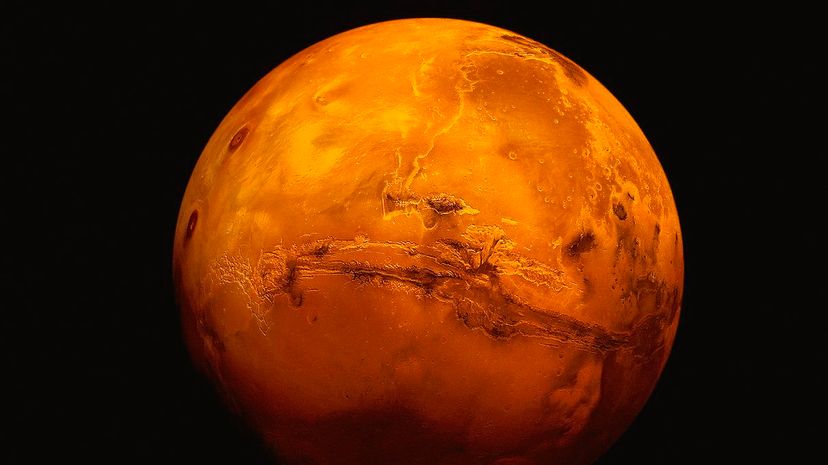 Image: Stocktrek Images / Stocktrek Images / Getty Images
About This Quiz
Mars: It fascinates humans like no other planet in our Solar System. You could argue that Saturn rivals it, but Saturn is mostly an object of beauty, because of its dazzling rings. However, that planet isn't solid; it's a gas giant, ruling out the prospect of human habitability or intelligent, human-like life. After all, while "Saturnian" is a real word, it's "Martian" that calls up an immediate visual image of a little green man, possibly with an antenna. Exploration, colonization and war with potential inhabitants has long been a preoccupation for science-fiction writers.
The truth is a little less sexy. NASA and other nations' space agencies have sent orbiting and landing craft to Mars, and these missions have ruled out any sort of life there, although the discovery of water was exciting, as well as the discovery of conditions amenable to very basic microbial life. We stress the words "basic" and "microbial." As Spy magazine put it back in the mid-'90s, when this discovery was made: "Plans for a Martian vogue might be a little premature."
Never mind that -- Mars itself will never be out of vogue! It's our nearest neighbor, the Red Planet, named for the god of war. We won't be happy until we've sent human beings there, as we did the Moon. In fact, one expert is even predicting Mars tourism in the near future. Until that day, take an armchair trip to Mars with our wide-ranging quiz!
Stocktrek Images / Stocktrek Images / Getty Images