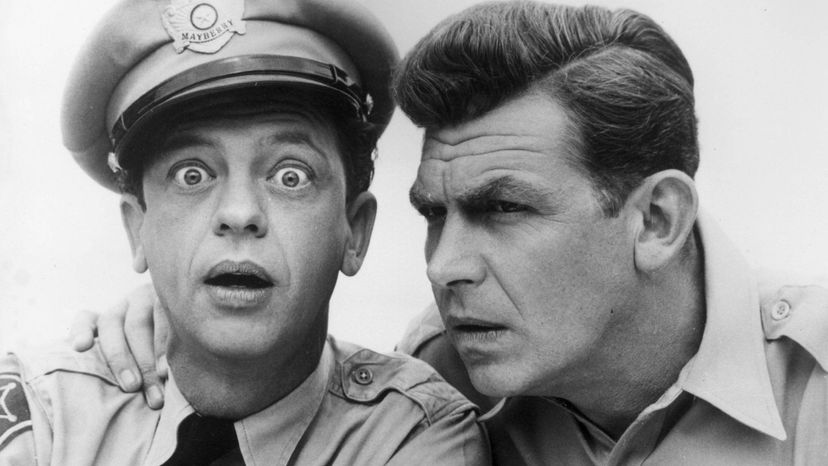 Image: n/a
About This Quiz
Can you remember the name of the beloved aunt who cared for the widowed Andy and his young son? And what was the name of that town drunk who always found himself in one of the cells down at the station? If you can answer these questions while whistling the tune of "The Fishin' Hole" -- that's the show's iconic theme song -- then you might have what it takes to ace this "Andy Griffith Show" quiz!
Andy Griffith was a film actor and famous gospel singer when he scored his own show, starting in 1960. The series, which featured Griffith as a small-town sheriff maintaining the peace in a small town, was inspired by Griffith's own hometown of Mount Airy, North Carolina. 
The link between Mount Airy and Mayberry is so strong that the town holds an annual fall festival known as Mayberry Days to honor their hometown hero. Visitors can ride in police vehicles designed to look like the one Andy drove on the show, get a haircut at Floyd's barbershop, and stroll down a historic main street that looks like it came straight out of an episode of the TV show.
Though "The Andy Griffith Show" was cancelled way back in 1968, its spirit lives on in small towns across the U.S., and also in the 249 episodes still in regular rotation -- ready to give viewers a dose of nostalgia for a time when even the bumbling Barney could make a living as a Deputy Sheriff. 
Ready to test your knowledge of this classic series? Take our quiz to test your "Andy Griffith Show" IQ!