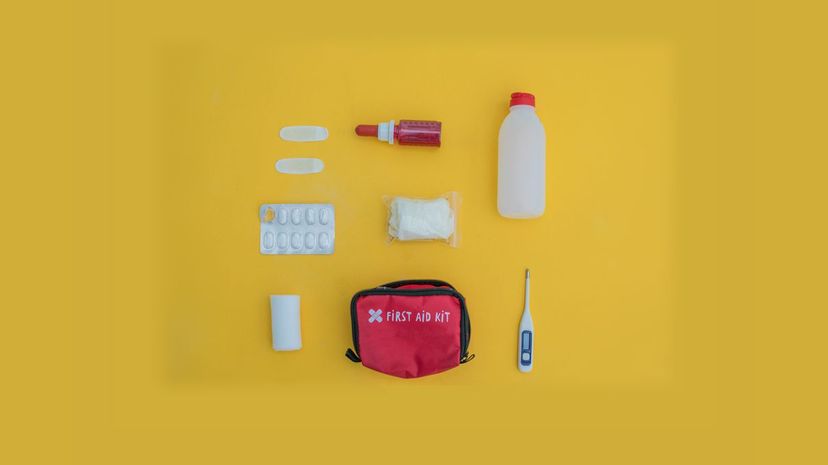 Image: Carol Yepes / Moment / Getty Images
About This Quiz
Like you, we love trivia of all kinds: history, geography, entertainment ... But there's one topic that could, literally, save a life someday. It is, of course, first aid. 
If you haven't taken a refresher course through your local fire department or Red Cross lately, the words "first aid" might bring up images of Band-Aids and a splash of disinfectant from a spray can, but it's so much more than that. Today, thanks to new technology, someone who's never worked in the medical field can restart a a person's heart with a defibrillator. Or they could take the (slightly) old-fashioned route of CPR. In a case of choking, they might use the Heimlich maneuver, only with us since 1974. 
If you're truly interested, a detailed first-aid manual can teach you to assess altered mental status, catch the early signs of diabetic ketoacidosis and treat "avulsions" and "degloving injuries." (Warning: photos of the latter are not for the faint of heart). Such knowledge, combined with practice of the techniques, could make you the hero of the hour someday. 
Having said that, of course, we have to remind you that first aid can be risky business. Always call 911 first, and when in doubt about a proper procedure, wait for the pros (unless the patient isn't breathing or doesn't have a pulse, in which case do your best). And while every attempt has been made to ensure that this quiz is factually accurate, we're not doctors here or EMTs. So if this is truly an interest you want to pursue, you're advised to find a first-aid/CPR course in your area. 
Carol Yepes / Moment / Getty Images