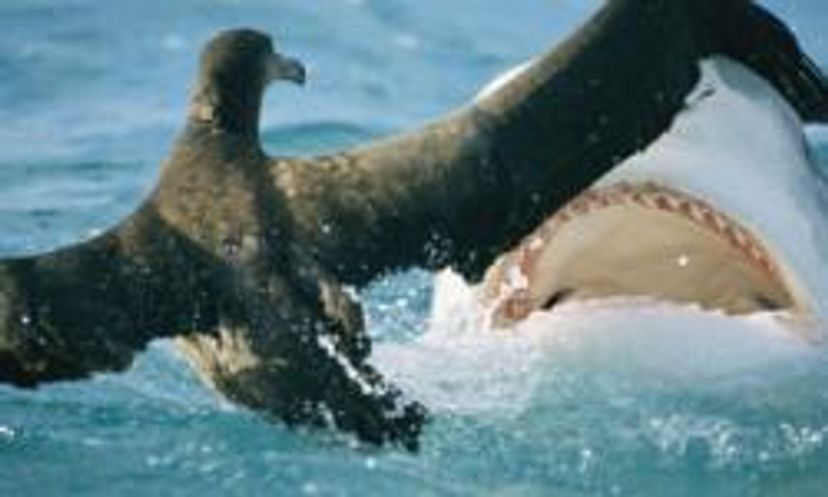 Image: Bill Curtsinger/National Geographic/Getty Images
About This Quiz
Tiger sharks have been known to eat everything from deer antlers to explosives to a suit of armor. What makes them so willing to eat anything? And how do they compare to their fellow seafaring predators?
Where do tiger sharks get their nicknames?
from their discovery off the coast of India, near a region with a high population of tigers
from the spots and stripes that cover juvenile tiger sharks
from the fact that their bite is as powerful as a Bengal tiger
Galeocerdo cuvier, otherwise known as the tiger shark, gets its nickname from the spots and stripes that cover young members of the species. It's the second deadliest shark in terms of recorded attacks.
Tiger sharks are also known as the "garbage can of the sea" because:
They will eat just about anything they can get their mouths on.
They are more affected by water pollution than any other species of shark.
They create a significantly larger amount of waste than any other species of shark.
Some have deemed tiger sharks "garbage cans" because they eat nearly anything put in front of them, from seals and turtles to explosives and entire chicken coops with chickens in them.
How large is a tiger shark when it's born?
Tiger shark pups are about 20 to 30 inches long when they're born but typically grow to be 10 to 14 feet long and weigh 850 to 1400 pounds.
A tiger shark's caudal fin is located on its:
Along with pectoral fins on its sides, a tiger shark's caudal fin, located on its tail, helps provide short bursts of speed when hunting prey. Otherwise, however, tiger sharks are considered relatively slow and sluggish.
Where are tiger sharks usually found?
in warm waters near the coast
in cold waters near the coast
in cold waters in the middle of the ocean
Tiger sharks love warm waters in tropical regions off the coast. Murky waters in coastal areas provide them with an ample supply of food.
Tiger sharks are generally thought to be:
neither -- they are awake haphazardly depending on when they're hungry
Generally, tiger sharks are thought to be nocturnal, though there are exceptions. In Hawaii, for example, tiger sharks feed during the day, because their prey, monk seals, are diurnal.
How often do female tiger sharks give birth?
Usually, female tiger sharks give birth every 3 years or so. Some scientists attribute this to the fact that the mating process is thought to be quite painful for the female, who is bitten and held down by the male. Some sharks have scarring that provides evidence of these types of bites.
How big is the average litter of tiger shark pups?
The average size of a litter of tiger shark pups is 40, although it can range from as few as 10 to as many as 80 pups. Females carry their young for a term of 14 to 16 months, but once the pups born, they must fend for themselves.
In Hawaii, the odds of being attacked by a shark are thought to be one in:
In Hawaii, the odds are stated to be about 1 in 5 million of being attacked by a shark. Along with great white and bull sharks, tiger sharks help make up 99 percent of the number of recorded shark attacks since 1580.
As it grows, a tiger shark's diet:
changes, because its mouth gets bigger and it is able to eat larger prey
does not change; it eats everything it sees from womb to tomb
changes in the summer months, when the water is warmer and it's forced to eat smaller prey
Tiger sharks not only have flexible palates, they also have ones that change with age. While younger ones feed on birds and sea snakes, they hunt for increasingly larger prey as their bodies and mouths grow.
Bill Curtsinger/National Geographic/Getty Images