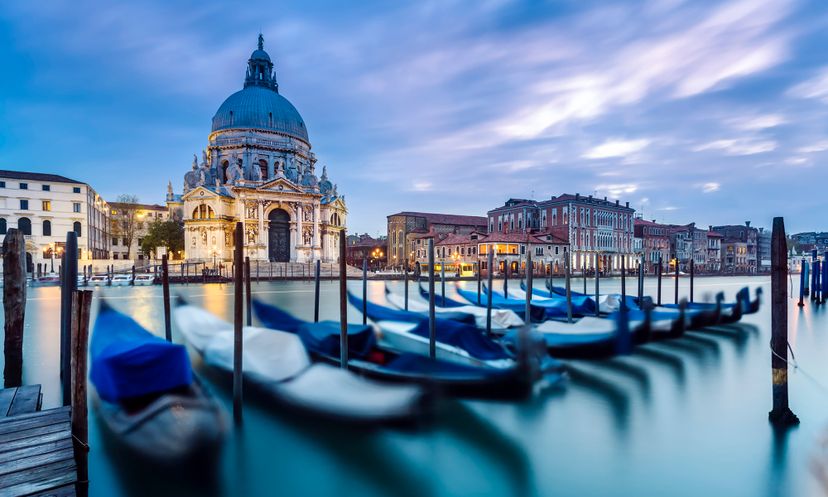 Image: Matteo Colombo/AWL Images/Getty Images
Basilica di San Marco?
Michelangelo painted its ceiling
Pope John Paul II was injured here in 1982
site of public hangings in medieval times
Venice's most popular tourist destination
The ornate Basilica di San Marco, consecrated in 1094, is perhaps the most recognizable Venetian landmark.
Santa Maria Gloriosa dei Frari?
late 14th-century church in the Italian Gothic style
the site of Venice's first theater
the largest church in Europe
The Italian gothic styled Santa Maria Gloriosa dei Frari is probably the second-most visited church in Venice, after San Marco.
Cicchetti?
Venetian breakfast pastries
Venice is filled with cicchetti bars, where people drop in for tapas and a glass of wine.
Gallerie dell'Accademia?
museum featuring pre 19th-century Venetian art
museum featuring modern Venetian art
The Gallerie dell'Accademia -- which contains paintings from the 14th century through the Renaissance -- is on every tour guide's must list.
Biennale?
an annual gondola race that finishes on the Grand Canal
the most exclusive restaurant in Venice
a huge international art festival
Venice's most famous gelato shop
an outer island full of ancient Roman ruins
The Venice Biennale is one of the modern art world's biggest events. It takes place in odd-numbered years, over six months in the summer and fall.
Carnevale?
takes place the weekend before Palm Sunday
takes place over two weeks before Good Friday
takes place over 10 days leading up to Ash Wednesday
takes place over the week before Easter
Venice's Carnevale is a 10-day celebration that ends the Tuesday before Ash Wednesday.
Palazzo Ducale?
a Renassiance mansion with a casino on the ground floor
The composer Richard Wagner died here in 1883.
a marble-covered palace on the Grand Canal
the residence of the leader of Venice
The massive Palazzo Ducale (Doge's Palace) was the residence of the Doge of Venice.
Piazza San Marco?
in the lowest-lying area of the city, so it's very susceptible to flooding
in the highest area of the city, so people flock there when it floods
Venice's main square is in the city's lowest-lying area, so it floods first at acqua alta (high tide).
Vaporetto?
Venetian public transportation
a style of painting popularized in late 18th-century Venice
an altar boy at the Basilica di San Marco
Vaporetti are the Venetian equivalent of buses. Gondolas are strictly for tourists -- the locals get around on the vaporetti.
La Fenice?
a huge park on the island of Mantua
Venice's main opera house
traditional Venetian lace
Fabled opera house Teatro la Fenice ("The Phoenix") has lived up to its name -- it's been rebuilt three times after being destroyed by fire.
Matteo Colombo/AWL Images/Getty Images