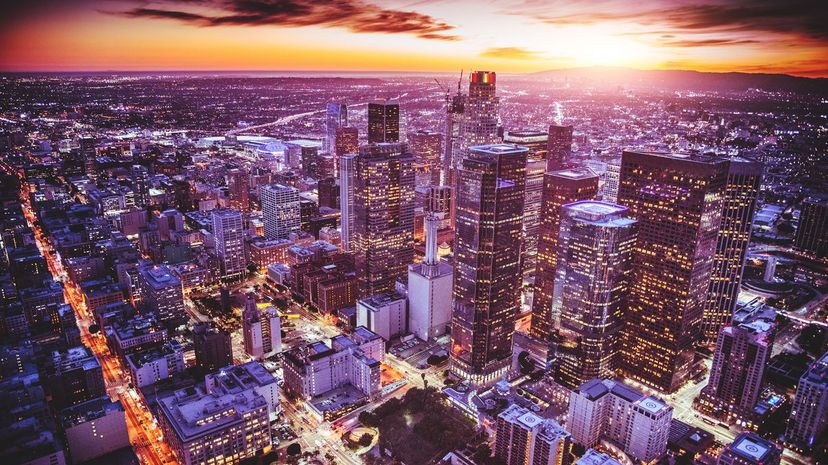 Image: franckreporter / E+ / Getty Images
About This Quiz
Los Angeles is a city of dramatic upsides and downsides. It has delightful weather, which is rarely very hot, never very cold,  and never sticky. It enjoys beautiful scenery, from the gorgeous Santa Monica Mountains to the magical sapphire shades of the Pacific Ocean. It enjoys one of the most vibrant job markets in the world, with opportunities not just in entertainment, but also in fields as diverse as biosciences, venture capital and fashion. It's in one of the most progressive states in the country, meaning the safety net is starting to improve and the city is starting to go fully renewable, which means the city will be increasingly clean over time. It's diverse, tolerant, and exciting—and despite a lot of quite terrible architecture, there is wonderful culture hidden in plain sight, all over the city.
However, LA also suffers from the worst—and arguably most non-existent—transport network in the world. It also has very high rents, mostly because the city's neighborhoods resolutely refuse to upzone areas to allow denser construction, thus contributing to a short supply of housing and the very same urban sprawl that causes the traffic nightmare! High rents also contribute to severe homelessness, exacerbated by the pleasant climate, as well as great income inequality.
Loving a city like this means taking the good with the bad, and being grateful for the former while working to improve the latter. That means you have to truly know the city to appreciate it, warts and all. Can your brain handle everything that Los Angeles has to offer?
franckreporter / E+ / Getty Images