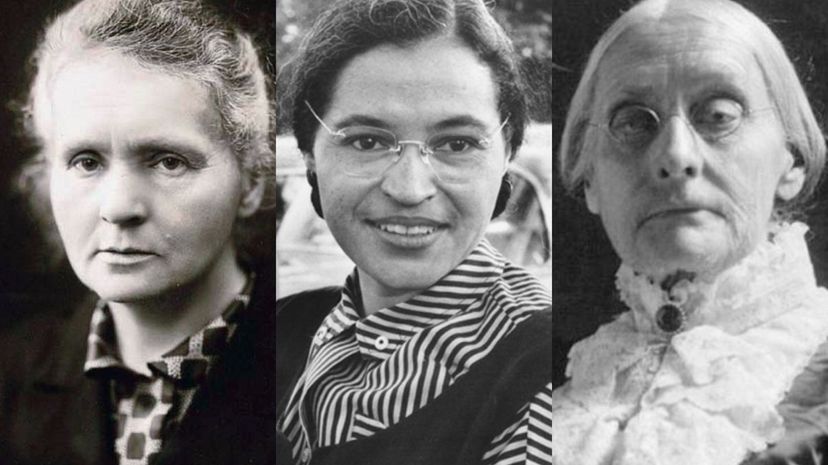 Image: Wiki Commons by Henri Manuel, WikiCommons by Unknown, WikiCommons by Frances "Fannie" Benjamin Johnston
About This Quiz
Society recognizes achievers for different reasons. Yet these recognitions sometimes get clouded by obvious gender gaps.
For instance, recognizing women's contributions in various cultural sectors still falls victim to age-old gendered nuances. In STEM fields, for example, certain women's organizations continuously voice the lack of female representation in these fields. While many women work in science, technology, engineering and mathematical fields, their recognition comes quite late for the work they've been doing. Movies like "Hidden Figures" showcased that clearly. The film featured historically strong women who beat the odds and helped put a man on the moon. But because of their race and gender, their contributions were unheard of during that crucial time.
Certain historically strong women also had to contend with "balancing careers and family life," which put an uneven head start for men in the professional circles. Since we traditionally see women as housekeepers, they feel undue pressure to "make things work" at home while pursuing careers. This is what the development sector calls "paid labor and unpaid labor." Traditionally, men get exempted from doing unpaid labor at home since they are already the breadwinner of the family. Women also get pressured to "break the glass ceiling" in workplaces traditionally deemed as male-dominated. Nonetheless, we still have a fine roster of women who persevered over time. 
How about you? Do you think you have what it takes to get recognized as a historically strong woman? Take the quiz and see for yourself!