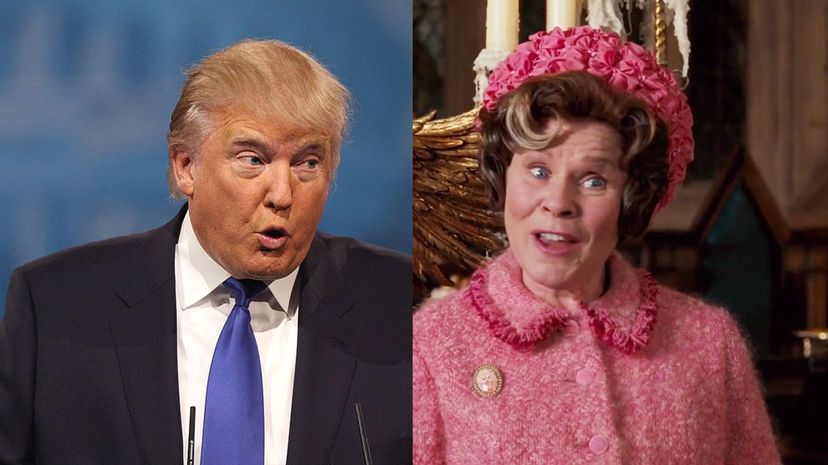 Image: Wiki Commons by Gage Skidmore/Warner Bros. Pictures/Heyday Films
About This Quiz
Once upon a time, there was an evil tyrant whom none of the children liked, and there was also Professor Umbridge. We kid, we kid! But did you ever think you'd find a quiz that combines aspects of Harry Potter's Wizarding World with elements of President Donald Trump's world? Yet, here we are.
If you're not familiar with Professor Dolores Umbridge, all you need to know can be summed up in her creator J.K. Rowling's own words: She was "someone whom I disliked intensely on sight." Ouch.
Umbridge first appears in the Harry Potter tales as Senior Undersecretary to the Minister for Magic. A few years later, she mosied over to Hogwarts, eventually forcing the long-tenured Dumlebdore out. Umbridge is well known for her nasty temperament and for lying to inflate her importance, which brings us to Trump.
We'll keep our political opinions to ourselves. That's what you have social media for. But there's no denying that Trump is a polarizing figure for many. Rowling's quotes about disliking someone intensely on sight may apply to many of you partaking in this quiz. Hey, we're not here to judge. We're just here to have some fun with some quotes that could have been made by Trump or Umbridge. The fun is in figuring out which is which. Strap on your sorting hat and buckle up for this yuuuge quiz that we know will prove you're a "very stable genius."