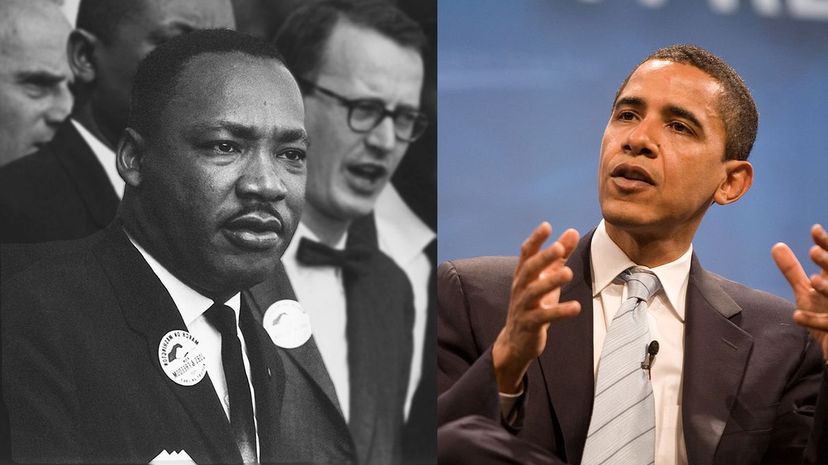 Image: Rowland Scherman / Center for American Progress Action Fund
About This Quiz
When Martin Luther King Jr. delivered his famous, "I Have a Dream" speech from the steps of Washington, D.C.'s, Lincoln Memorial in August 1963, the man who would become the United States' 44th president was just barely two years old. Five years later, when King died from the bullet of an assassin's gun, Barack Obama would have been a precocious elementary school student. But, the two – who never met – are inextricably linked in America's history: The first African-American recipient of Time's "Man of the Year" award in 1963. One of the first to ride an integrated bus service in Montgomery, Alabama. The first African-American president of the United States.
Many people believe that King's work paved the way for an Obama presidency. His work to achieve racial, social and political justice and equality for people of all races was King's work and, some might say, a "dream" fulfilled when Obama took office – four decades after King lost his life. Of King, Obama has said: "We have more to do to bring Dr. King's dream within reach of all our daughters and sons. ... As Dr. King told us, 'injustice anywhere is a threat to justice everywhere,' and this remains our great unfinished business."
The unfinished business of this quiz, however, is whether or not you can identify who said what. Both men have been noted as great orators and quoted extensively. Can you identify the words of the great civil rights leader from the leader of the free world? Read these inspiring soundbites and tell us: Was it King or Obama?
Rowland Scherman / Center for American Progress Action Fund