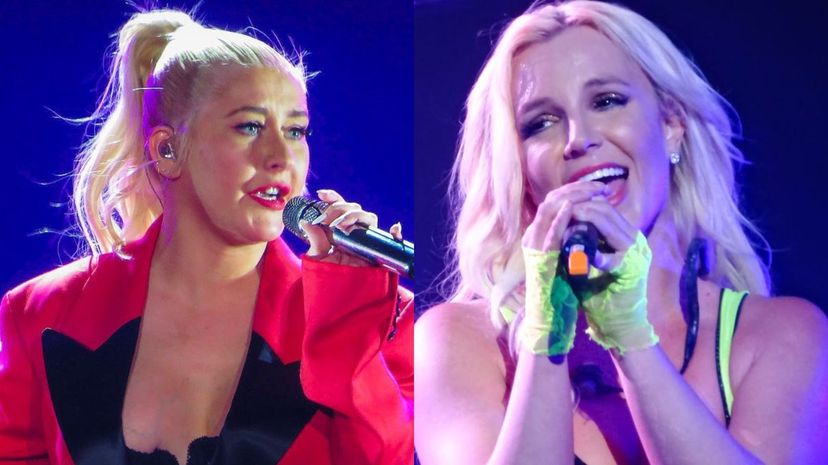 Image: Wiki Commons by jenniferlinneaphotography/Wiki Commons by https://www.flickr.com/photos/rhysadams/
About This Quiz
The year was 1999. You could buy a loaf of bread for $1.49, a postage stamp for 33 cents and Napster (shhh!) had just been released. SpongeBob premiered, Barbie turned 40 and we were all smitten by a new website called MySpace. It was also the beginning of a war we didn't know was coming: Britney v. Christina.
Former Mousketeer and Justin Timberlake gal pal Britney Spears released her "...Baby One More Time" album in January of that year. The project was Spears' most successful and, ultimately, one of the best-selling albums of all time. But, there was a storm brewing on the horizon by the name of Christina Aguilera (also a Mousketeer, FYI). Seven months after Spears gave us the album we didn't know we needed, Aguilera dropped her self-titled project, delivering a "Genie in a Bottle"-sized music bomb. 
Fast-forward 20 years (yes, that's 2-0) and we've ridden the Britney v. Christina roller coaster through its highs and lows. We watched as Britney endured her now-infamous 2007 meltdown. We wondered how Xtina would navigate the spotlight as she turned from teen idol to full-grown woman and dealt with marital problems. Today, though, we've seen both women make seismic comebacks, a return to some of their former '90s glory.
So, are you Team Britney or Team Christina? Think you know them both pretty well? Put your internal Shazam to the test with this list of tunes from these '90s pop princesses. Can you tell us who's "Overprotected?" Which one of these songbirds is "Hurt?" Turn up the volume on this Britney v. Christina quiz!