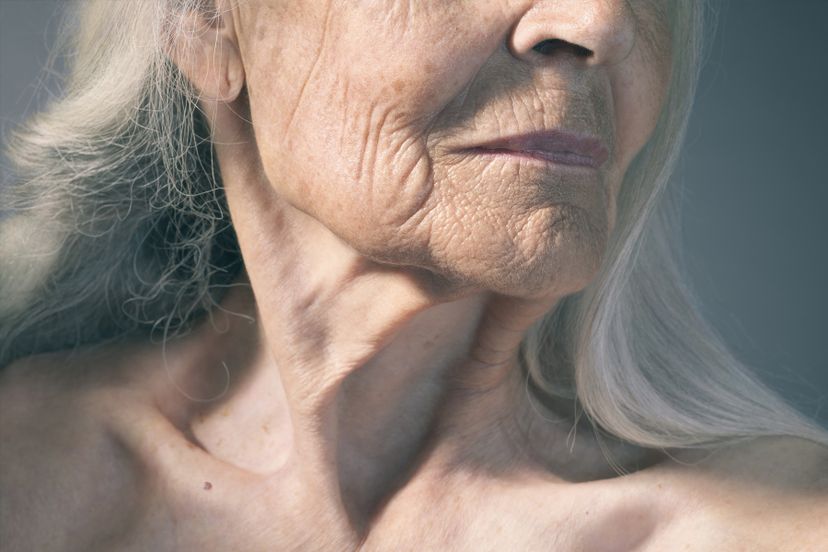 Image: Tim Flach/Getty Images
About This Quiz
Everyone dreads the onset of wrinkles -- and we all have our own methods of prevention. But how do you know what really works? We'll separate fact from fiction in this quiz -- and maybe even give you the lowdown on the best wrinkle cream out there!
Wrinkles form in the outermost layer of the skin: the epidermis.
almost fact: They can form in the epidermis or the dermis.
Wrinkles form in the top two layers of the skin -- their appearance varies depending on the layer in which they form.
People with higher body mass indexes have increased skin aging.
almost fact: Thinner women tend to have more wrinkles.
People with lower body mass indexes tend to wrinkle more, in part because they have less soft facial tissue.
Staying out of the sun is the best way to prevent wrinkling.
Ninety percent of the wrinkles that dermatologists treat are from excessive exposure to the sun, not from the normal process of aging.
almost fact: Wrinkling is natural -- staying out of the sun will help a little, though.
Smokers are much more likely to have wrinkled skin than nonsmokers.
Smoking constricts tiny facial blood vessels, which reduces the supply of oxygen and other nutrients. Smokers also get lines around their mouths from puckering to puff on cigarettes.
almost fact: Smokers who also drink alcohol are at high risk for wrinkling.
Dieting can cause wrinkles.
almost fact: Yo-yo dieting can cause wrinkles.
A habit of yo-yo dieting can stretch the skin, making it less elastic, while depleting the face's padding.
Researchers believe that wrinkles can be the result of eating too much fatty food.
The bad guy is sugar. A study found that by the time a person reaches 35, sugar starts to damage the skin's collagen and elastin.
almost fact: It's carbohydrates that could be the culprit.
The type of pillow you use can affect facial wrinkling.
almost fact: Your sleep position is what can cause wrinkles overnight.
If you're really serious about preventing wrinkles, try to sleep only on your back. Sleeping with your face pressed against the pillow can cause 'sleep lines' that, over the years, can turn into wrinkles.
Foods rich in vitamin B have been found to be effective in lessening wrinkles.
You might want to try edamame or soy milk instead. Studies have found that soybeans and other soy products have proven effective in firming compromised skin tissue.
almost fact: It's better to stock up on foods high in calcium.
Creme de la Mer is the best wrinkle cream out there.
Sorry, everyone -- no wrinkle cream has been found to have significant lasting results.
almost fact: Garnier Nutritioniste Ultra-Lift Pro Deep Wrinkle Cream is the best.
There might not be an all-powerful wrinkle cream out there, but products that contain salicylic acid and vitamin D could help.
There is some evidence that retinoic acid and antioxidants (like vitamins C and E) are effective.
almost fact: Alpha hydroxy acids are the best ingredients to look out for.
Tim Flach/Getty Images