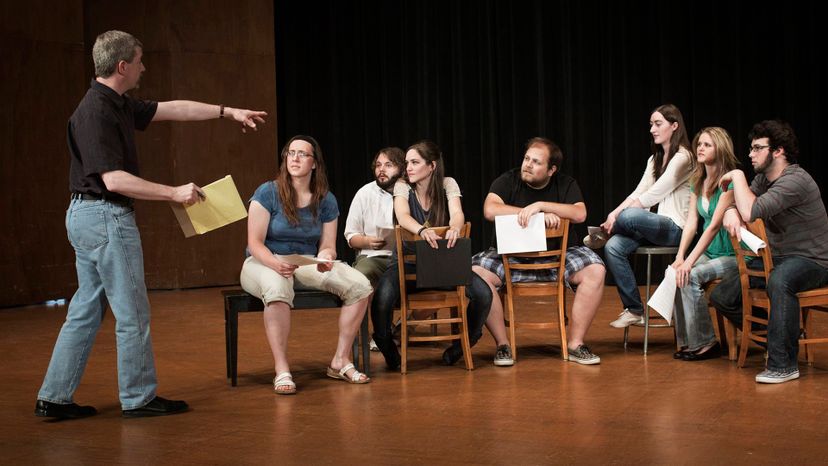 Image: Hill Street Studios/Blend Images/Getty Images
About This Quiz
One of the strange misconceptions about showbiz is that people who work in it are cool and glamorous. Of course, showbiz is itself quite cool and glamorous, because that is the point of it on the surface. Broadway shows, like large award shows and Hollywood movies, are glitzy, spectacular, shiny affairs, full of beautiful smiling people who set the trends and draw the eye. They're talented, they're attractive, and everyone wants to be near them or simply to be them. They're the theater kids, living out the promise that it does, indeed, get better.
Of course, this is not what it is like to grow up as a theater kid. Theater is not where you go if you're glamorous, cool and popular in school; that is what sports are for. Theater is where you go if you're highly creative, nerdy and frankly odd. It is the glorious, weird, beautiful safe haven for the freaks, the geeks, the outcasts. Maybe it's because they are gay, or because they're dorks, or because they want to read novels and write comics (or vice versa) instead of caring about which Kardashian wore what, but the theater kids are all the folks who didn't fit in anywhere else. For many of them, theater is the lifeline that says it is OK to be different, to dream big, and to not even try to fit in. Later on, the theater kids find their freaky and fabulous wider theater and showbiz community waiting for them, and the promise of the high school theater club is fulfilled.
Are you one of these wonderful weirdos? Let's find out!