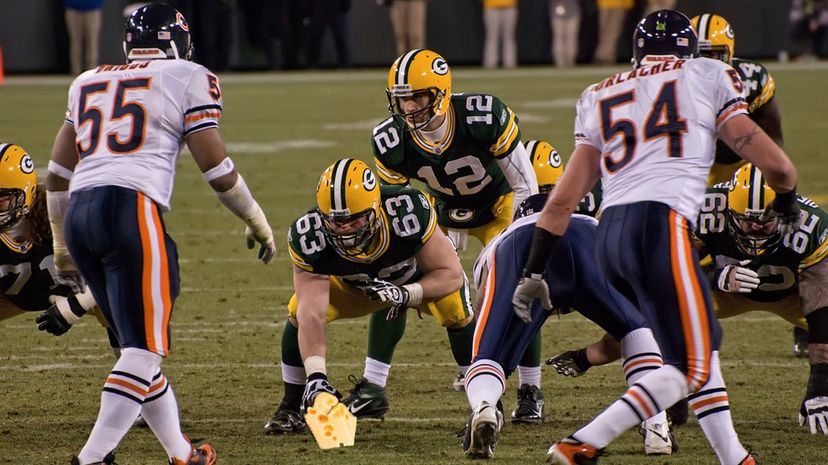 Image: Wikicommons by Mike Morbeck / Yevgen Romanenko/Moment/GettyImages
About This Quiz
Sure, fans come to NFL games to see athletic catches, hard hits and miraculous passes. But they also come to eat. And this past year, there were some very interesting dishes.
If you're a fan of the Buffalo Bills, you could have visited New Era Field for a fried peanut butter & jelly sandwich, served on a stick doused in syrup. If you were watching a Detroit Lions game at Ford Field in Detroit and wanted a Latin-inspired dessert, you could have ordered dessert nachos: tortilla chips covered in chocolate ganache and cinnamon sugar along with cherries and whipped cream.
But the granddaddy of all foods last season was the Gridiron Burger, available at the arena now called State Farm Stadium in Arizona. This $75 behemoth has five 1/3-pound burgers, five hot dogs, five bratwursts, 20 slices of cheese, eight slices of bacon, eight chicken tenders, 12 ounces of french fries, lettuce, pickle and tanker sauce on a bun. Fans who finished the burger in under an hour were shown on the stadium video screen and awarded a team jersey.
Food in football stadiums isn't just designed to shock and awe – it's also built around taste preferences of fans. And those preferences can tell us a lot about which team a person roots for. Get through these 30 cuisine questions and we'll guess what football team you cheer for!