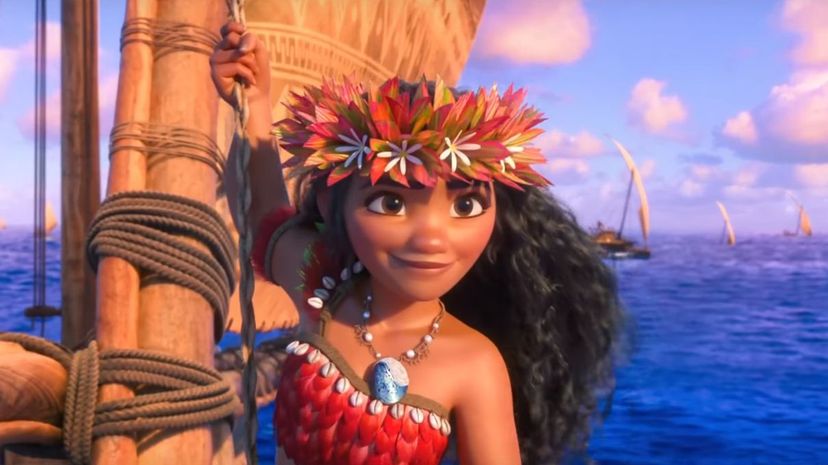 Image: Walt Disney Pictures/Walt Disney Animation Studios
About This Quiz
In 2016, a new Disney heroine sailed into audience's hearts: Moana, the Polynesian island girl who goes on a quest to save her people. She's joined — reluctantly at first — by the cocky, vain and wise-cracking demigod Maui, whose big mistake years ago still has serious repercussions in the present. And during their journey, audiences get to hum along to a number of soaring ballads and catchy tunes. 
Disney wanted to reproduce the success of "Frozen," and in large part they succeeded. "Moana" was a critical and commercial hit, and it no doubt inspired many young kids to pick up a pretend oar, flip their hair back and belt out "How Far I'll Go" with all the passion of the film's young star. There's something for everyone in "Moana." Boys and girls alike can admire Moana's determination and Maui's change of heart. Parents, and even plain old adults, can appreciate the film's humor, heart and stunning visuals.
If you've ever stood at the edge of the sea and looked out at the horizon, you can identify with Moana's desire to see more of this amazing world. And even if we no longer look up at the night sky to find where we're going, we can still listen to the voice inside that says to "follow the farthest star." And, like Moana, we can discover who we are. So are you ready to sail the open sea with Moana? Can you hold your own against a demigod? Start the quiz to find out!
Walt Disney Pictures/Walt Disney Animation Studios