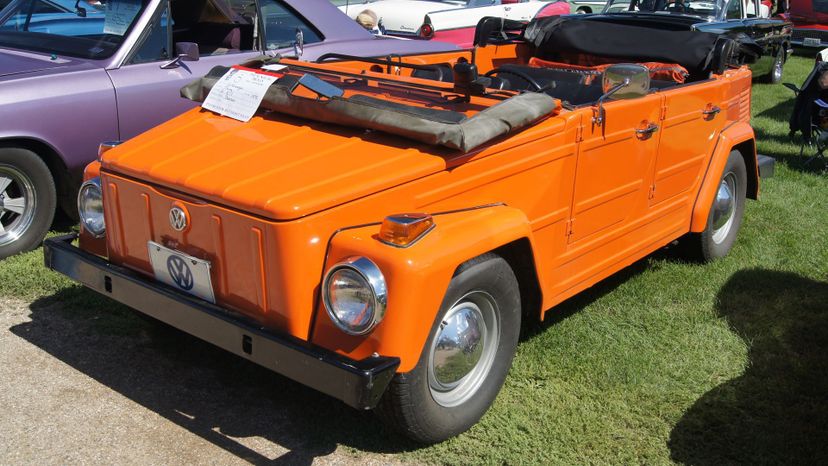 Image: Wiki Commons via Greg Gjerdingen
About This Quiz
Recognize the names of these cars? The Pacer. The Pinto. The Thing. They're from an era of carmaking that brings both cheers and jeers--the funky 1970s.
The backdrop for the 1970s was an exciting yet turbulent time of transition, with events such as the Vietnam War, Watergate, two energy crises (one in 1973 and another in 1979), and the advent of disco transforming culture.
The previous decades--the 1950s and the 1960s--focused more on sleek, aerodynamic designs, while the 1970s saw form following function. Styling was also a bit confused, with one foot in the past (hello wood paneling!) and one foot in the future: some cars either looked very angular or had some aerodynamic inspiration, but no real appeal or allure.

With car designs from the 1970s, one major shift which influenced styles was the implementation of American federal regulations requiring more fuel efficiency, lower emissions and increased safety in cars. This period of time, which spanned from the early '70s to the early '80s, has been called the "Malaise Era" of American automotive design.
There were definitely some stylish standouts from this time period, such as the Pontiac Firebird and the Chevy Camaro. But the focus on horsepower and souped-up engines shifted to features such as fuel injection and anti-lock brake systems. 
These horrendous designs didn't just plague American cars. Foreign carmakers also dabbled in the ugly, especially if they had to import to the U.S.
Overall, the 1970s had a lot of memorable and controversial styles, and we think you'll get a hoot out of going back in time to look at some of the ugliest cars of that decade.
Wiki Commons via Greg Gjerdingen